Skip to content
Skip to navigation menu
Wahl Battery Pet Trimmer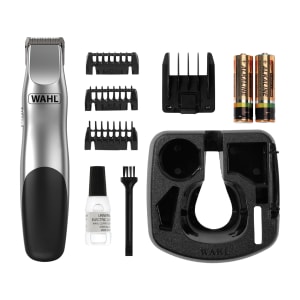 Product details
Ideal for grooming dogs and cats, the Wahl battery-operated pet trimmer is quiet and compact. This makes it suitable for neatening up fur around your pet's paws, face and ears.
How it works
This cordless clipper is powered by 2 AA batteries (supplied) and provides two to three hours of trimming per charge. This means you can take your time over grooming your cat or dog, making the whole process more comfortable and stress-free for both of you. A storage stand keeps the kit neat when not in use.
The Wahl trimmer is designed to be quiet, and the smaller 22-millimetre width of the chrome-plated blade makes cutting the fur around the face, paws and ears easier.
The attachment comb means you can trim at six different lengths, and it offers three close-trim settings too. The contoured handle has a comfortable soft grip, and is small enough to manoeuvre into tricky-to-trim spots.
Key benefits
suitable for cats or dogs
cordless trimmer with batteries included
provides two to three hours trimming per charge
storage stand contains comb attachments and clipper oil
quiet trimmer suitable for nervous pets
smaller cutting width of 22 millimetres
easy handling with soft-touch grip
chrome-plated blade, screw-fixed into place
When to use it
You'll find step-by-step guides on changing the blade, adjusting the trimmer and oiling the unit on the Wahl website. It can be used by professionals and owners alike who frequently need to trim pet hair to keep their dogs looking smart between cuts. With a super-close shave setting, it's also ideal for medical purposes and can provide a stress-free pre-injection trim.
Click here
to find out more about how we help to provide recycling facilities for electrical equipment.
Customer reviews
We're sorry but there are no reviews of this product in English.