Skip to content
Skip to navigation menu
YuCALM Dog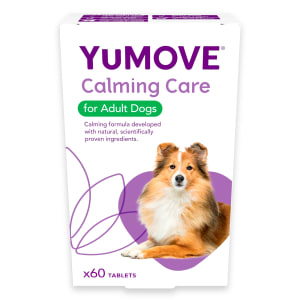 Product details
YuCalm tablets have been designed to help relieve stress and anxiety in dogs.
How it works
Made from calming ingredients including lemon balm, L-theanine and B vitamins, these tablets naturally encourage your dog's brain to relax in stressful situations. Dogs are likely to become stressed during firework displays or thunderstorms due to their heightened hearing and can behave unpredictably.
A YuCalm tablet can calm and relax your dog, reducing anxious behaviour such as excessive crying, restlessness and in some cases loss of bladder control. If you know your dog becomes stressed or anxious in particular situations, simply administer one of these tablets beforehand.
Key benefits
easy-to-administer tablets
relieves symptoms of anxiety and stress
made from natural ingredients
designed for anxious dogs
can be used for both long and short-term anxiety control.
When to use it
The better you know your dog, the more likely you are to recognise stressful situations in which your dog may become anxious. Some dogs are nervous when it comes to meeting new people or when they're travelling in a crate. Administering one of these pills by hand or hidden in their food beforehand helps relieve and calm your dog.
Some dog breeds like whippets, poodles and King Charles spaniels are generally nervous animals. These all-natural tablets can be used as a long-term solution to help your dog remain relaxed on a day-to-day basis.
If your dog is restless, crying, hysterically barking or unable to control their bladder then they may be feeling stressed or anxious. Take note of the occasion and be sure to administer a YuCalm pill next time they're faced with a similar situation.
Ingredients
Lemon Balm, L-Theanine, Fish protein hydrolysate, B vitamins
Warnings
Size

Daily Amount

How many days will a box last?

30

60

120

Very Small Dogs
(up to 7kg)

1/2 Tablet

60

120

240

Small Dogs
(8 - 15kg)

1 Tablet

30

60

120

Medium Dogs
(16 - 30kg)

2 Tablets

15

30

60

Large Dogs
(31 - 45kg)

3 Tablets

10

20

40

Very Large Dogs
(Over 45kg)

4 Tablets

7.5

15

30
If your dog is taking more than 1 YuCALM Dog tablet a day we would recommend to spread the ration out throughout the day.
Customer reviews
Product reviews are filtered by language.
The following reviews are available in English.
Calming tablets

We find these very helpful our dog gets anxious when left . Def use them all the time .

Great product

YuCalm is a great help as my dog is very nervous and stressed of everything, he's a lot calmer and not so stressed, I like this product as its natural ingredients.

Yucalms

Yucalms really help calm my dog down,she is terrified of other dogs since being attacked four times since a puppy,but she gets less stressed now when meeting other dogs.