Skip to content
Skip to navigation menu
YuCARE Toothcleaner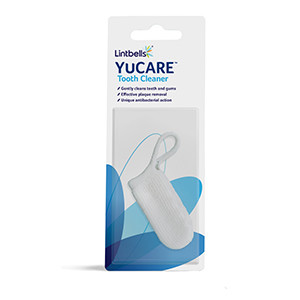 Product details
YuCARE Toothcleaner has 12,000 more fibres than a toothbrush giving you an easy way to clean your pet's teeth.
With its antibacterial silver ions, the microfiber YuCARE Toothcleaner gently removes bacteria and plaque, preventing build-up of tartar and freshening breath.

Key Benefits:
For whiter teeth and fresher breath
Easy to use, micro-cleaning fibres destroy bacteria on contact
Lasts for 4-6 weeks of daily use
12,000 times more fibres than a toothbrush!
Perfect with YuCARE Tooth Polish
To clean the YuCARE Toothcleaner simply rinse under warm water and leave to dry before the next use.
Customer reviews
Product reviews are filtered by language.
The following reviews are available in English.
Very good - but

This is just as advertised and as I have only just started to brush my dogs teeth thought this would be best to begin with. Yes it did the job but was rather large for the dogs mouth and she started to baulk so finally used a babys toothbrush. However this is an excellent product but not for me.

Tooth cleaner

Very good to use when your dog Won't allow a brush in their mouth.

Toth cleaner

My little Yorkie does not like having his teeth cleaned and will not allow a brush or other types of cleaners near his mouth. He is however, used to me touching his face so the finger cleaner works for us. I spray it with cleaner or use the doggy toothpaste. As his teeth and mouth are so small this works well.

I've tried a lot of tooth care products. This is one of the easiest and both my dogs are now letting me clean every tooth. Really struggled with other products especially witb back teeth. You can see the plaque on the microfibre. I use a toothpaste too. Excellent product and well recommended.

my dog hates being touched and hates being cleaned but this he seems to enjoy... and i can feel what im doing unlike with other products ive used in the past highly recommend 5 stars