Skip to content
Skip to navigation menu
YuDIGEST PLUS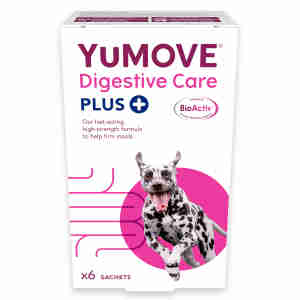 Rollover image to zoom
Product details
YuDIGEST PLUS for Dogs is developed for serious digestive upsets and ongoing digestive challenges, Yumpro BioActiv Plus provides a veterinary strength complex of prebiotics and beneficial probiotic bacteria, coupled with intestine supporting active ingredients that may help to restore your dog's digestive health as quickly as possible.
YuDIGEST PLUS for Dogs can be mixed with your dog's food or powder can also be mixed with 10-15ml of warm tap water to form a paste which can be fed directly into the dog's mouth.

Key Benefits may include:

Restores The Natural Balance: Our unique blend of 3 different scientifically proven prebiotics and 1 billion probiotic bacteria per sachet support 'good' bacteria, and block 'bad' bacteria to ensure a healthy digestive balance.

Binds Bad Bacteria, Viruses And Toxins: Montmorillonite is a special kind of clay that binds viruses and toxins so they safely pass through your pet's digestive system. It has been shown to be up to 20 times more effective than other commonly used clays such as Kaolin.

Supports The Intestinal Barrier: Threonine is an essential amino acid that helps the cells in the intestine to produce the protective gut lining that's often lost during digestive upsets.

Encourages Healthy Digestion: Linseed meal provides a natural source of fibre rich in lignans and antioxidants to support healthy digestion.

Vet-strength probiotics for dogs

Fast-acting for digestive emergencies

Tops up good bacteria
Feeding Guide:
| | |
| --- | --- |
| SMALL DOGS & CATS | (Up to 5kg) ½ sachet |
| MEDIUM DOGS | (6-15kg) 1 sachet |
| LARGE DOGS | (16-35kg) 2 sachets |
| VERY LARGE DOGS | (Over 35 kg) 3 sachets |
The powder can also be mixed with warm tap water to form a paste. To form a smooth paste, add 10-15ml of water. If you prefer to use a syringe, simply mix 20ml of water with the powder to form a liquid.

Once mixed with water, the paste should be given to your dog immediately and not stored.
Ingredients
Probiotic Enterococcus faecium E1707, Prebiotics MOS and scFOS, Montmorillonite clay, Beta Glucans, Threonine, Linseed meal
Customer reviews
Product reviews are filtered by language.
The following reviews are available in English.
Should have tried this earlier

My doggie had a tummy issue after antibiotics. He had loose and slimy stool. He lost appetite. His fur was dull. He had stomachache and would not let us to touch his lower abdomen. He sniffed the food and turned his head away. It was unfortunate that he has diebetes. I had to feed him manually for days to keep him survive. Luckily we found this supplement. It worked overnight with normal stool. His appetite returns gradually to normal after three days. His fur shines again. It works excellent! Thank you Yumpro.

Yudigest

After using several other products with no joy i tried this product and was delighted with the results never use anything else again

After our rescue dog came to us, he was in terrible shape, could not eat , and very nearly died, Yumpro was a product which we use daily to maintain his appetite and health. He is now very happy, very healthy and Yumpro contributes to this

We have a rescue german shepherd with serious digestive problems and under weight. Yumpro was recomended by a friend.After just 2 days she was doing solid poo's. Brilliant product. Her weight has increased and she is a very happy dog now.I have told another friend about it and she started using it for her rescue dog too with great results.

Definitely seemed to help our dog get back to normal after a course of antibiotics she was on for a digestive tract infection.