Skip to content
Skip to navigation menu
"Best of its kind"
YuMOVE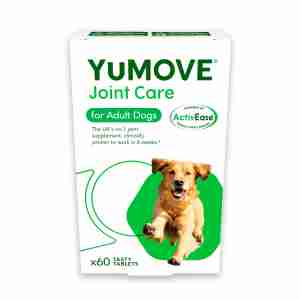 Rollover image to zoom
Product details
YuMOVE provides all the key nutrients required for healthy joints in a single supplement and is developed specifically as one of the best dog joint supplements to support dog joint health.
Smoothes stiffness, safeguards long-term joint health and promotes mobility. It's proven to work in just 6 weeks.*
Key Benefits:
Aids Stiff Joints - VitaEase Green Lipped Mussel from the crystal clear waters of New Zealand provides an incredibly concentrated source of Omega 3. With 4 times more active than standard versions, VitaEase™ Green Lipped Mussel is proven to soothe stiff joints.
Supports joint Structure - High strength Glucosamine provides the major building blocks of cartilage.
Natural Chondroitin found in VitaEase™ Green Lipped Mussel helps to maintain healthy cartilage and joints for longer. Manganese supports collagen formation in the cartilage, tendons and ligaments.
Promotes Mobility - YuMOVE Dog contains a unique form of Hyaluronic Acid proven to reach the joint within 2 hours, helping to lubricate and cushion the joint. Vitamins C & E are antioxidants which neutralise free radicals, helping to maintain joint mobility.
Clinically proven to work in just 6 weeks*
The UK's #1 veterinary joint supplement**
*Study conducted by Royal Veterinary College.
**Gfk Vet Track Sales Data, MAT values (March 2016)
Same product different packaging
Ingredients
VitaEase, Glucosamine HCI, Manganese, Vitamins C & E, Hyaluronic Acid.
Dosage
Feeding Guide:
| | |
| --- | --- |
| Small Breeds | (up to 15kg) 1 Tablet |
| Medium Breeds | (16-30kg) 2 Tablets |
| Large Breeds | (31-45kg) 3 Tablets |
| Very Large Breeds | (Over 45kg) 4 Tablets |
This can be given as a treat or simply added to their food daily. Double the daily recommendation for the first 4-6 weeks.
Customer reviews
Product reviews are filtered by language.
The following reviews are available in English.
Real improvement

My nearly 12 year old Pointer had a degree of stiffness in his shoulder which was clearly causing him discomfort. Pain killing products caused him to behave as if he were 3 again - lovely but likely to cause more damage! I wanted something to address the actual problem rather than just mask the symptoms. He has been on Yumove for a couple of weeks now, and there has been a definite improvement. The stiffness has diminished markedly and he has been playing happily, whilst not pretending that he is a pup again! As other reviewers have mentioned, there are no problems over getting him to eat the tablets : he clearly feels that they taste fine. I am really pleased with his improvement so far. I have rated 4 rather than 5 star only because he has not been taking the tablets for very long.

Yumove works

Yumove tablets help to keep my arthritic 12 year old Golden Retriever mobile. She has 2 tabs twice a day..& they are the only tablets that I don't need to disguise..she loves to chew them. I tell her they are her sweeties!!

Can't believe the results

Our 16 yo JRT has suffered from arthritus in legs and spine for 12 months but has got worse in recent months and the vet suggested steroids which had minor results. A neighbour suggested Yumove so we bought some. After 4 weeks on 2 tablets a day the results are amazing. We no longer need to take his buggy for when he gets tired. Just done a two mile walk with our other two younger dogs and it was if he was a teenager again. We opened the front door when we got home and he charged out into the back garden to start playing with the other two instead of collapsing on his bed as he has been doing in recent months. He has got his old mojo back.We are totally amazed by the results and joke that we wouldn't mind some ourselves ;both pensioners. If your best friend is struggling they are certainly worth tryimg.

Believe the reviews!!

I bought these for my 10year old rescue dog after she started to become lame from her longer walks, she would be stiff and was really struggling and limping. I reduced her walks and got her a months supply just giving her two a day - 4 weeks later, first long walk and omg she appears to be pain free, no limping, no stiffness on her first long walk hill walking, bit of a splash, a couple of hours - sascha had a ball, highly recommended.

Elderly dog with joint stiffness

You over dog has really helped my dogs mobility, she can now manage stairs much more easily. Im very pleased. She likes the tablets so it's very easy to administer them!