Skip to content
Skip to navigation menu
YuMOVE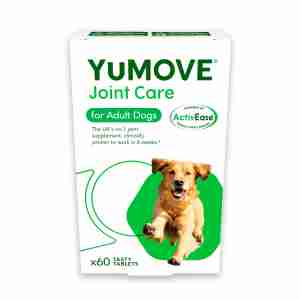 Rollover image to zoom
Product details
YuMOVE provides all the key nutrients required for healthy joints in a single supplement and is developed specifically as one of the best dog joint supplements to support dog joint health.
Smoothes stiffness, safeguards long-term joint health and promotes mobility. It's proven to work in just 6 weeks.*
Key Benefits:
Aids Stiff Joints - VitaEase Green Lipped Mussel from the crystal clear waters of New Zealand provides an incredibly concentrated source of Omega 3. With 4 times more active than standard versions, VitaEase™ Green Lipped Mussel is proven to soothe stiff joints.
Supports joint Structure - High strength Glucosamine provides the major building blocks of cartilage.
Natural Chondroitin found in VitaEase™ Green Lipped Mussel helps to maintain healthy cartilage and joints for longer. Manganese supports collagen formation in the cartilage, tendons and ligaments.
Promotes Mobility - YuMOVE Dog contains a unique form of Hyaluronic Acid proven to reach the joint within 2 hours, helping to lubricate and cushion the joint. Vitamins C & E are antioxidants which neutralise free radicals, helping to maintain joint mobility.
Clinically proven to work in just 6 weeks*
The UK's #1 veterinary joint supplement**
*Study conducted by Royal Veterinary College.
**Gfk Vet Track Sales Data, MAT values (March 2016)
Same product different packaging
Ingredients
VitaEase, Glucosamine HCI, Manganese, Vitamins C & E, Hyaluronic Acid.
Dosage
Feeding Guide:
| | |
| --- | --- |
| Small Breeds | (up to 15kg) 1 Tablet |
| Medium Breeds | (16-30kg) 2 Tablets |
| Large Breeds | (31-45kg) 3 Tablets |
| Very Large Breeds | (Over 45kg) 4 Tablets |
This can be given as a treat or simply added to their food daily. Double the daily recommendation for the first 4-6 weeks.
Customer reviews
Product reviews are filtered by language.
The following reviews are available in English.
YuMove

I can only reiterate what others have said. My Beagle had a limp after an energetic visit to the beach. Taking her to the Vets they diagnosed that there was no bruising or fractures and that the limp was likely due to a touch of arthritis. She was prescribed medication which didnt really help much. I did my own research and read about YuMove and decided to try it out. The limp has now gone and the dosage of Yumove has been dramatically reduced to about 2 tablets a weeks to help ward off any symptoms reoccurring In her case they have given her extra vitality back and she really enjoys her walks/runs on the beach/in the country. I recommend that if your dog has a touch of arthritis you try YuMove before following implied expensive Vet Surgery.

YuMove

YuMove always work for my dogs

YuMOVE works

Our cocker spaniel had a limp so off to the vets and the anti-inflammatories worked until they ran out but the limp would not clear up so after several visits at the vets at some expense we tried YuMove. After only a week there was a marked improvement in our 8 year old cocker and after just over a month he is back to his playful self. Am continuing to give him occasional tablets to ward off his diagnosed arthritis. Whether or not the vets diagnosis is correct YuMove appears to work.

Yumove joint care for dogs

Wow it really works. My jack Russell who is 12 years old has more mobility in her front legs which she suffers from arthritis

Yumove

My dog had a limp which i could only assume had happened on his run on the beach , i was worried it was a fracture so i took him to my vet, She wanted to x ray or scan him which i couldnt afford so a friend reccomended yumove as her dog had a similar limp with no obvious pain or swelling and has been dignosed with mild arthritis, and since being on yumove his limp has dissapeared and hes back to his normal happy self .