Skip to content
Skip to navigation menu
Zylkene for Dogs & Cats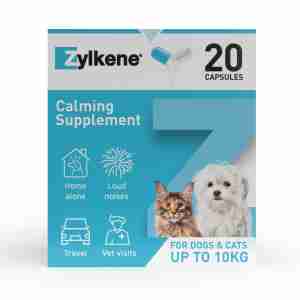 Rollover image to zoom
Product details
Zylkene is a natural product that may help to support pets during many common situations such as a house move or kennel/cattery stay, or during fireworks season. It only needs to be given once daily, and is very easy to give - simply open the capsule and mix the palatable powder with food or a favourite treat. Zylkene has not been associated with side effects.

Dogs and cats obviously cannot tell us how they are coping, but they can alter their behaviour. There are many different ways pets can show stress including:
Posture changes e.g. crouching, dilated pupils
Changed demeanour
House soiling
Changes use of their environment e.g. changed resting place, reduced exploration or stopped visiting a certain part of the house
Changes in pattern of sleeping
Habits such as excessive licking and grooming
Reduced play
Changed interaction with humans or other pets – can be increased or decreased
Zylkène may be administered to dogs and cats facing unusual situations or before occasions such as:
Changes in environment
Being left alone
New person, baby or pet being introduced
Travelling
Kennel or cattery visits
Fireworks
Loud noises and thunderstorms
Vet visits
Celebrations
Moving house
Lactation
Weaning
Dosage
Zylkene 75mg

Up to 5kg

1 Capsule a day

5 - 10kg

2 Capsules a day

Zylkene 225mg

10 - 15kg

1 Capsule a day

15 - 30kg

2 Capsules a day

Zylkene 450mg

15 - 30kg

1 Capsule a day

30 - 60kg

2 Capsules a day
Customer reviews
Product reviews are filtered by language.
The following reviews are available in English.
Sadly didn't work at all for my dog

Bought for my elderly labradorX who gets very stressed when travelling. Persevered for a month to give it a fair trial but no effect whatsoever. Easy to use. Tried a number of other products but without success.

It's working for us!

My 14 year old neutered Tom, started spraying indoors recently. I aslo have 2 spayed females. As you can imagine, it's been a nightmare! The vet said it could be anxiety and prescribed Zylkene and said it works for some cats. Well it's worked for my boy, thank goodness and I'm now buying it online for convenience. Between Zylkene and a lot more cuddles and attention from me, my boy is now fine. Highly recommend!

Good value

Much cheaper & easier to buy these online here compared to at the Vets. Delivery is also free, quick & reliable.

Itchy cat

Tilly is not stressed just very itchy, fleas or ticks ? She has a long silky coat, is very small, hates being groomed but loves everyone. I worry because she scratches a much

Got my happy dog back (almost!)

My Chihuahua has got very growly towards his mate when he's sitting on my lap and & guarding me. I only give him half a day a whole for a 3kg dog made him skulk off into the corner and although he still has the occasion grumble, he's lost the terrible fighting talk he'd adopted. Super stuff!