Skip to content
Skip to navigation menu
Aktivait Capsules for Medium and Large Dogs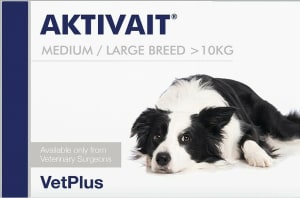 Product details

Aktivait is the first nutraceutical food supplement for dogs and cats to combine all the nutrients necessary that may help in sustaining optimum brain function during the ageing process.

Old age has a significant effect on brain function. In dogs, this can result in disorientation, loss of house training, irregular sleep patterns and reduced interaction.

Ingredients:
Each capsule contains DHA/EPA 35mg, L-carnitine 13.5mg,Vitamin C 20mg, N-acetyl cysteine 20mg, Alpha lipoic acid 10mg, Vitamin E 10mg, Acetyl l-carnitine 5mg, Co Enzyme Q10 1mg, Phosphotidylserine 1mg.

Directions:
Dogs less than 20kg - 1 capsule per day
Dogs 20kg and over - 2 capsules per day

Capsules can be opened and mixed with food or given whole

Ingredients
Phosphatidylserine – a phospholipid, which helps to maintain normal cell membrane function
Omega 3 fatty acids – eicosapentaenoic acid (EPA) and docosahexaenoic acid (DHA)
L-Carnitine – essential for cellular metabolism and healthy mitochondrial function
Co-enzyme Q10 – used to aid energy production, also has potent antioxidant effects
Selenium – an antioxidant and important mineral in maintaining natural cognitive function
Vitamin E – a very potent antioxidant and lipid soluble vitamin with cell-protecting effects
Vitamin C – a water soluble antioxidant vitamin
Alpha Lipoic Acid – a coenzyme used in mitochondrial metabolism, also has antioxidant effects.
Dosage
| | |
| --- | --- |
| Dog Weight | Daily Dosage |
| 10 - 20kg | 1 capsule |
| 21 - 40kg | 2 capsules |
| 40kg + | 3 capsules |
Customer reviews
Product reviews are filtered by language.
The following reviews are available in English.
Brilliant

Can't tell you how great these capusuls are

Satisfied

My dog is 10 years old rough-haired Ditch Shepherd who lost his right back leg due do bone cancer 3 years ago. This summer he started to look a bit tired and felt himself not so good. And I was suggested to give him Aktivait Capsules. After 2 weeks he started to look better and now he is full of energy and power! Amazing! So I suggest those capsules to every old dog owner to give the dog back his energy and full life.

Delivery

I have used Pet supermarket for a number of years and find them very efficient and a speedy delivery service

Alfie

Can not say how these capsules have given my thirteen year old dog a new lease of life.

Extra Lease of Life

My beloved Staffie is at least 15 years old. He was a rescue dog estimated to be around 5 years old when we got him in 2005. I think he is more likely to be 16-17 years old. Over the past 12-18 months he has been getting increasingly "vague" . The vet described it as stargazing which is a lovely expression. I read up on the net and after speaking to my vet thought Aktivaitt was worth trying. Rio has been on it now since June and although I know it is not a cure, it has certainly improved his enjoyment of life.. I would certainly recommend trying Aktivaitt to anyone who has a pet with Doggy Dementia.