With Repeat Order, you can get everything automatically: from pet food to wormer. You select the frequency, and we do the rest. Consider us your pet fairy!
So no more running out. Get your favourite products as regularly as you want.
To activate it:
2. Select the frequency of your repeat order
3. Add to cart and complete order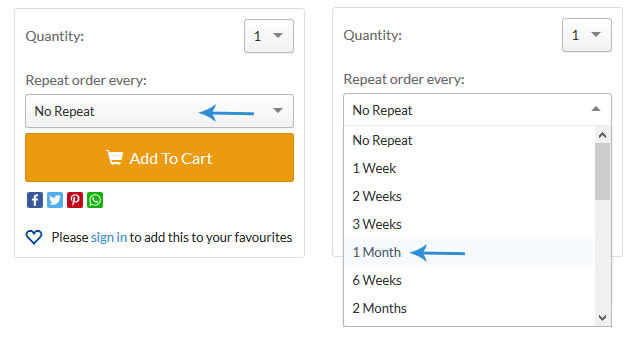 You can change this any time by logging in to 'My Account'.
With Repeat Order, you also get access to unique offers and discounts. See what's available here.
Why choose Repeat Order?
1. It's convenient: never run out
2. It's free: no additional fees
3. It's easy: amend or cancel your repeat order at any time
Please note that product prices change from time to time and future repeat orders will be charged at the price as advertised on the website at the time the order is generated. For more information, see our FAQs