Skip to content
Skip to navigation menu
Beaphar Catnip Bits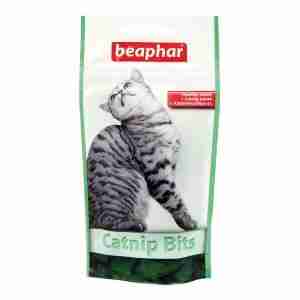 Delight your cat at treat time with these Beaphar catnip bits.
What it's for
Cats the world over are famous for loving catnip, so these Beaphar bits are an extra-special treat for your little friend. You can use them to reward good behaviour or obedience during training, or just as a little treat to show them some love. The yummy catnip paste makes them feel good, too. When eaten, it acts as a natural relaxant that helps them feel fuzzy and mellow, encouraging them to roll, purr and rub.
Some cats particularly love a good fuss or belly rub when they're feeling especially relaxed, and combining come Beaphar bits and some petting can often be a good treat during unsettling events like firework displays or when visitors drop by the house.
Key benefits
yummy, all-natural treats for cats
full of immunity-boosting vitamins
crunchy coating exfoliates plaque from teeth
contains a soothing, irresistible catnip paste
ideal as a training aid or generous treat
resealable pouch helps maintain freshness
How it works
Catnip is a safe, natural herb, similar to mint. Though cats get hyper from sniffing this plant, when eaten, it helps them to relax and feel at ease, like humans after a soothing cup of chamomile tea. Plus, the other natural ingredients in this yummy treat are great for your cat's insides. They contain lots of healthy vitamins and minerals to support their immune system and keep them in great health when they're out on the prowl. Even the crunchy coating is healthy, helping to scrape plaque off their teeth as they chew.
You can feed five to 10 treats to your cat per day, according to their weight – just remember to reduce their main meals accordingly.
Customer reviews
Product reviews are filtered by language.
The following reviews are available in English.
cats loved them

as soon as they smelt the catnip that was it, they would not leave me alone, they loved them

My cat loves these!

First time I have bought these and my cat loves them!

Cats can't resist them

My 3 cats don't normally want treats but with these as soon as you pick up the packet they appear from nowhere.

excellent product

I buy this with every order. My cats love this item and it is a great treat or reward. highly recommended.

My cats both love these

Nuts are complete, certainly not a squashed mess as many seem to become at the bottom of a bag/carton. My cats really love them and will come from all parts of house and garden to get one if called.