Skip to content
Skip to navigation menu
Cesar Classics Dog Tray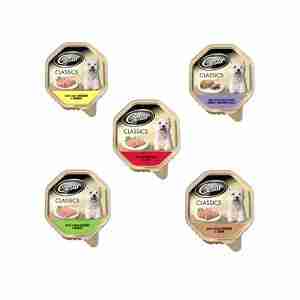 Product details
Cesar Classics Dog Tray
Cesar dog food trays are prepared with love are care, combining quality ingredients with select cuts of meat and cooking them just right. With wonderful flavours, each recipe is 100% nutritionally complete, offering a balanced meal. Plus, our wide range of recipes and textures provides the ultimate taste variety for your dog.
Key Benefits:
Gentle on the stomach for easy digestion
No artificial colours or flavours
No sugar
Trays:
1 x 150g - Chicken and Turkey
1 x 150g - Lamb and Chicken in Jelly
1 x 150g - Rabbit and Heart
1 x 150g - Turkey and Lamb in Loaf
1 x 150g - Beef and Liver
Feeding guide:
A 5 kg dog requires 2 1/2 trays per day, a 7 kg dog 3 trays, a 10 kg dog 4 trays. We recommend to feed a mix of wet and dry food, just halve the recommended quantities of respective products. Allow a transition phase and adjust amounts according to your pet's needs.
Water should always be available.
Ingredients
Chicken and Turkey: Meat and Animal Derivatives (60%, including 4% Chicken, 4% Turkey),Cereals,Minerals,Derivatives of Vegetable Origin
Analical constituents (%): Protein:: 10, Fat content:: 5, Inorganic Matter:: 2, Crude Fibres:: 0.4, Moisture:: 81, Additives per kg:: , Nutritional additives:: , Vitamin D3:: 150 IU, Calcium iodate anhydrous:: 0.39 mg, Cupric sulphite pentahydrate:: 4.1 mg, Ferrous sulphate monohydrate:: 10 mg, Manganous sulphate monohydrate:: 5.6 mg, Zinc sulphate monohydrate:: 44.5 mg, Technological additives:: , Cassia gum:: 2000 mg, Sodium nitrite:: 12.6 mg
Lamb and Chicken in Jelly: Meat and Animal Derivatives (45%, including 4% Lamb, 4% Chicken),Derivatives of Vegetable Origin,Minerals
Analytical constituents (%): Protein:: 8.5, Fat content:: 5.5 , Inorganic matter:: 2, Crude fibres:: 0.4, Moisture:: 82, Additives per kg:: , Nutritional additives:: , Vitamin D3: 150 IU, Calcium iodate anhydrous:: 0.39 mg, Cupric sulphate pentahydrate:: 4.1 mg, Ferrous sulphate monohydrate:: 10 mg, Manganous sulphate monohydrate:: 5.6 mg, Zinc sulphate monohydrate:: 44.5 mg, Technological additives:: , Cassia gum:: 1625 mg
Rabbit and Heart: Meat and Animal Derivatives (60%, including 4% Rabbit, 4% Heart),Cereals,Minerals,Derivatives of Vegetable Origin
Analytical constituents (%): Protein:: 10, Fat content:: 5, Inorganic matter:: 2, Crude fibres:: 0.4, Moisture:: 81, Additives per kg:: , Nutritional additives:: , Vitamin D3:: 150 IU, Calcium iodate anhydrous:: 0.39 mg, Cupric sulphate pentahydrate:: 4.1 mg, Ferrous sulphate monohydrate:: 10 mg, Manganous sulphate monohydrate:: 5.6 mg, Zinc sulphate monohydrate:: 44.5 mg, Technological additives:: , Cassia gum:: 2000 mg, Sodium nitrite:: 12.6 mg
Beef and Liver: Meat and Animal Derivatives (60%, including 4% Beef, 4% Liver), Cereals, Minerals, Derivatives of Vegetable Origin
Analytical constituents (%): Protein:10, Fat content:5, Inorganic matter:2, Crude fibres:0.4, Moisture:81, Additives per kg: Nutritional additives: Vitamin D3:150 IU, Calcium iodate anhydrous:0.39 mg, Cupric sulphate pentahydrate:4.1 mg, Ferrous sulphate monohydrate:10 mg, Manganous sulphate monohydrate:5.6 mg, Zinc sulphate monohydrate:44.5 mg, Technological additives:Cassia gum:2000 mg, Sodium nitrite:12.6 mg
Turkey and Lamb in Loaf: Meat and Animal Derivatives (60%, including 4% Turkey, 4% Lamb),Cereals,Minerals,Derivatives of Vegetable Origin
Analytical constituents (%): Protein:: 10, Fat content:: 5, Inorganic matter:: 2, Crude fibres:: 0.4, Moisture:: 81, Additives per kg:: , Nutritional additives:: , Vitamin D3:: 150 IU, Calcium iodate anhydrous:: 0.39 mg, Cupric sulphate pentahydrate:: 4.1 mg, Ferrous sulphate monohydrate:: 10 mg, Manganous sulphate monohydrate:: 5.6 mg, Zinc sulphate monohydrate:: 44.5 mg, Technological additives:: , Cassia gum:: 2000 mg, Sodium nitrite:: 12.6 mg