Skip to content
Skip to navigation menu
Dentagen Chews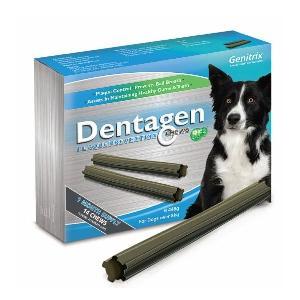 Product details
Dentagen Chews
For dogs
Dogs over 8kg – Large chews
Dogs under 8kg – Small chews
Ingredients
Cereal grains (corn flour), Rheumpalmatum (source of RF2), minerals (phosphorus), preservatives, flavours andantioxidants: EU approved additives.
Analysis
Fibre 0.1%, Ash 0.8%, Moisture19%, Carbohydrates 77%, Total Phosphorus 0.12%,321 Kcal per 100g, 1360Kjoule/100g
Description
Dentagen Chews are highlypalatable, and are recommended for every other day feeding to supplement thelevels of RF2 and maintain inhibition of plaque formation.
The special design and shape ofthe chews provide mechanical cleaning right to the gum line. The chews areavailable in two sizes and are conveniently packaged in one month packsproviding clients with an economic homecare choice. RF2 is not bactericidal andallows the natural and healthy mouth and gut flora to exist without promotingdental disease. It inhibits plaque formation. Importantly, Dentagen chews havea low calorific value which allows minimal interruption to diet formulation forthe dog.
Instructions
Give one Dentagen Chew every otherday, preferably after meals.
Precautions
Reseal the sachet after use. Storein cool dry place. Keep out of reach of children. For veterinary use only.
Customer reviews
Product reviews are filtered by language.
The following reviews are available in English.
My dog loves these they are alot more effective than dentastix, i love them when they are buy 2 get 3 LOL

great product, just make sure you buy the right size. Worked brilliant for mine.

Both my dogs love these. They are hard to chew so it takes a little while but they are effective on the teeth.