Skip to content
Skip to navigation menu
Enzymatic Toothpaste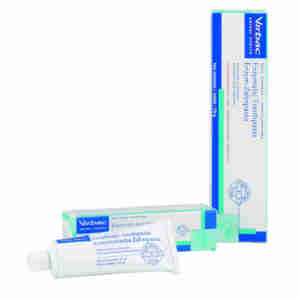 Product details
Good dental hygiene is a vital part of your dog's overall health. Keep their mouth fresh and healthy with this Virbac poultry flavour enzymatic toothpaste.
How it works
Not all dogs love having their teeth brushed, so the tasty poultry flavour of this toothpaste is designed to make everything more enjoyable for them. Not only is it delicious, but the formula is safe for dogs to swallow. It doesn't need to be rinsed away after brushing, making the process easier and less stressful for both you and your dog.
Virbac's C.E.T dual enzyme action is designed to limit the formation of plaque, interrupting the plaque-to-tartar cycle before it can get started. The enzymes are also mildly abrasive, so regular brushing fights tartar and bad breath at the source.
Key benefits
palatable poultry flavour appeals to dogs
safe to swallow
dual enzyme action aids natural defence mechanisms
fights plaque, tartar and bad breath
suitable for regular use
When to use it
Dogs' oral health is easy to overlook, but it's just as important as the rest of their body. If smaller problems are left untreated, they can develop into gum disease and tooth loss, while excess plaque and tartar can get into their digestive system and cause serious tummy upsets.
Just like humans, dogs' mouths need regular care. You should never use human toothpaste on a dog, since it can be toxic to them, but a dog-friendly formula is an effective way to keep their teeth and gums in perfect condition. Since the paste is safe to swallow, there's no need to rinse it away.
If your dog seems to be struggling to chew properly or their breath seems excessively bad, speak to your vet as soon as possible. These are often symptoms of gum or tooth problems, even if your dog's teeth look fine.
Customer reviews
Product reviews are filtered by language.
The following reviews are available in English.
Virbac toothpaste, poultry flavour.

We have been using this toothpaste on our dog since he had to have 12 teeth out approximately 6 years ago, the vet said at the time see you in 2 years to remove some more teeth, fortunately we did a little research on dog toothpaste and this virbac toothpaste had good reviews so we tried it with our Jack Russell and it's been great , his teeth still look good so really pleased we found this and from Medicanimal the prices are very competitive. We have had great service from them with no problems at all.

Excellant product

My dog achieves constant "gold stars" from her vet due to daily teeth cleaning since a puppy. She is now 7.

Tasty toothpaste

I have used this toothpaste for many years as my dogs have always enjoyed having their teeth clean because of the taste. How good it is in doing its job I am not sure.

great product

My cats love the flavor of the fish toothpaste! Makes teethbrushing alot more manageable. I just have to call them when its time and they come running!

clean teeth

I use it to clean four cats teeth, they like the taste so much they try to lick it off my finger, good product