Skip to content
Skip to navigation menu
Eukanuba Daily Care Overweight Sterilized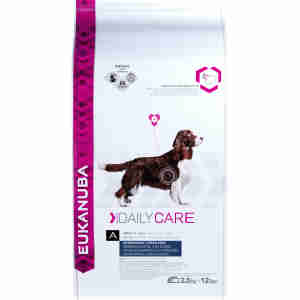 Rollover image to zoom
Product details
Eukanuba Daily Care Overweight Sterilized is a nutritionally balanced food for neutered dogs who struggle to stay at a healthy size.
How it works
If you've noticed your dog gaining weight after being sterilised, this tasty kibble is a great solution. The mix contains 15% less fat than regular weight loss foods, plus supplement L-carnitine to burn fat and promote lean, healthy muscles. Heavier pets are often uninterested in exercise, so this protein-packed food provides plenty of energy to get them up and off the sofa. Eukanuba adds prebiotics and beet fibres to this mix, which ease digestion and help your pet absorb nutrients from food. These include vitamins A, C and E, which raise their natural defences. Your dog will benefit from omega-3 and -6 oils fatty acids, too, which nourish the skin and coat, support strong muscles and protect joints. Their teeth are also taken care of with Eukanuba's 3D DentaDefense kibble, which scrubs away plaque for healthier gums and fresher breath.
Key benefits
helps adult, sterilised dogs to maintain a healthy weight
L-carnitine burns fat and supports lean muscle
low-fat mix keeps pets fuller for longer
omega-3 and -6 oils nourish the skin and coat
3D DentaDefense kibble helps clean teeth and freshen breath
added prebiotics and fibre ease digestion
When to use it
After being sterilised, you might notice your dog becoming heavier and more lethargic. This is not unusual, but you can tackle the problem with a food like Eukanuba Daily Care Overweight Sterilized. This low-fat mix will help your pet to slim down and maintain a healthy weight. It also contains all the nutrients your pet needs to live an active and happy lifestyle.
If you're swapping food brands, gradually mix the new with the old to avoid upsetting your dog's stomach. Speak to your vet if you'd like more advice about taking care of your pet after sterilisation.
Customer reviews
Product reviews are filtered by language.
The following reviews are available in English.
Eukanuba Overweight Sterilized

very prompt and speedy delivery at a good price.

we find that this product is just right for our dog.she was sterilized and had started to put on weight

I have been using Eukanuba Joint Sensitive for my Labrador for over 4 years. He is fit, healthy and energetic has no weight issues and a beautiful shine to his coat. Although this food may seem expensive you feed less than some other brands, which also means fewer toilet stops. Best of all my dog loves it!

Great, easy to use diet food it has worked a treat on my over weight chocolate labrador but you must feed the ammount for the weight the dog should be not the weight it is.

I have used this food for over 2 years for my chocolate lab as he was a couple of kg overweight and not only did it help him loose the required weight but it''s also helped him loose it steadily and keep it off. He is now on Eukanuba senior food and loves it.