Skip to content
Skip to navigation menu
Feliscratch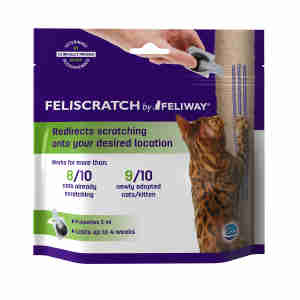 Rollover image to zoom
Product details
Does your cat love to scratch? This Feliscratch spray might be just the thing to stop them tearing up the sofa and start using that post you've bought them instead.
What it's for
Cats have a natural urge to scratch and, annoyingly, often choose your furniture over their own scratching post. This spray can be used to drive them away from the sofa and towards their toys or post to scratch. If you have more than one cat at home, each should have their own post to prevent territorial stress and fighting.
Feliscratch should be sprayed directly on your cat's scratching post. If you don't notice a difference in their behaviour after two weeks of using Feliscratch, try combining it with Feliway – an anti-stress spray. Apply both sprays in vertical lines to mimic the motion of your furry friend's scratching.
Key benefits
mimics the pheromone that makes your cat want to scratch
spray on your cat's scratching post
stops your cat scratching at furniture
works on all surfaces
How it works
When your cat scratches, they leave behind a scent from their claws. This scent encourages them to go back and mark the same spot over and over again. This can cause your home a lot of damage.
Feliscratch mimics this scent. Spray it on your pet's scratching post to encourage them to scratch there rather than at the sofa or another surface that they're not supposed to touch.
Scratching can be brought on by stress, so if your cat is acting unusually have a think about what might be causing it. Try to give them a peaceful spot in the home. If they have nervous tendencies, Feliway can be used together with Feliscratch to help calm them down.
Additional Information
How to use:
It's simple. Just apply FELISCRATCH by FELIWAY® slowly onto your cat's scratching post by drawing 2 or 3 lines every time as follows:
1 pipette daily during the first week
1 pipette at the beginning of week 3 and week 4
If your cat is still scratching in undesirable areas at the end of week 2, FELIWAY Classic spray can also be applied to the areas where scratching is unwanted.
Customer reviews
Product reviews are filtered by language.
The following reviews are available in English.
This actually works.

I have used feliway plug ins before to chill out my cats who were winding each other up despite being sisters! I found the plug ins really made a difference. However I must admit I was sceptical as to whether the feliscratch would work. My cats scratched my old sofa so much it was in tatters so having bought a new one I was willing to try anything. I got new scratching posts and used this product and to my complete surprise it worked! After applying it to the posts my cats rolled around and started scratching immediately and not the sofa! I have applied it regularly to the posts since and they use them all the time and haven't touched my new sofas. I am amazed it works so well. Only thing I would say is get tall scratching posts as they like to have a good stretch as they scratch. I would 100% recommend this product.