Skip to content
Skip to navigation menu
Flevox Spot On Cat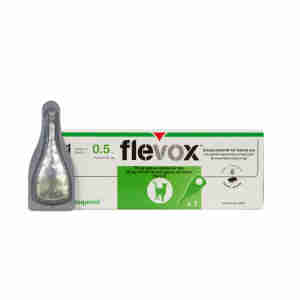 **Prescription needed in the Republic of Ireland**

Flevox is a Fipronil based Spot-on Solution for the treatment of fleas (Ctenocephalides spp.) and ticks (Rhipicephalus sanguineus). Insecticidal efficacy against new infestations with adult fleas persists for up to 4 weeks. Newly arriving fleas are killed within 48 hours of landing on the animal. Flevox can also be used as part of a treatment strategy for flea allergy dermatitis (FAD) where this has previously been diagnosed by a veterinary surgeon.

Vet's Advice:
How long do fleas live for?
The complete flea life cycle, from egg to larva to pupa to adult, normally takes about 15 days. However, under inhospitable conditions (e.g.; cold temperatures, or lack of a host) the pupa stage can become dormant. This dormant period can extend the flea's life cycle to over a year. When the pupa senses the vibrations, carbon dioxide, or warmth that tells it an animal host is near, it finishes developing into an adult and emerges from its cocoon.

To ensure that you read the most up to date information about this product, please check the VMD's Product Information Database.
Legal category: NFA_VPS | Flevox Spot On Cat
Customer reviews
Product reviews are filtered by language.
The following reviews are available in English.
Flevox Works

Flevox is the best product i have tried and tested on my cats, no other product i have found is as effective. Highly recommended.

Does the job as well as any other fipronil-based treatment

If your cat doesn't need a specific flea treatment due to e.g. flea dermatitis where a treatment which does not require the flea to bite the animal may be more appropriate, then any fipronil-based treatment will do the job. I have not found my cats carrying fleas which have become fipronil resistant yet. I chose to buy Flevox this time round because it worked out cheapest per application bearing in mind that I bulk buy and had a discount voucher for MedicAnimal which I wanted to use to the full. The name of the product is a lot less important than its working compound. Having said that, I find the pipettes easy to use without sharp edges once opened.

Flevox Spot on Cat

Very good product just as good as frontline

fab stuff!

Absolutely brilliant used on my cats today and already the fleas are dying going to buy this more often saves a fortune and works better than frontline!!

Value for Money

Fipronil is the active ingredient in Frontline, Flevox works just as good as it has the same active ingredient. The product works the same, the only difference I find is that it leaves a spot of matte 'ness' to the fur where is was applied, but it went away after a number of days. Frontline usually only leaves a spot for a day or two as far as I can remember.