Skip to content
Skip to navigation menu
You have setup the following Repeat Order: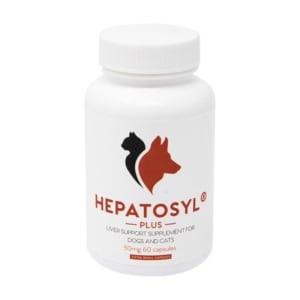 Hepatosyl Plus Liver Support Capsules for Dog & Cat
Product details

Hepatosyl is the UK's leading veterinary nutritional hepatic supplement.

Any disease causing reduction in bile flow (cholestasis) or reduced intestinal fat absorption can result in a reduction in the uptake of fat-soluble vitamins (A,D,E and K). K is essential for blood clotting, and hence deficiency can lead to coagulation abnormalities - these have been documented in over 80% of cats and dogs with naturally occurring liver disease.

In 45% of dogs and cats with liver problems, low hepatic glutathione levels have been shown, hence supplementation is recommended to improve hepatic glutathione levels and maintain and protect the liver function.

Directions:
100mg per 5kg weight daily

Available in 50g, 100g and 200g capsules.


To ensure that you read the most up to date information about this product, please check the VMD's Product Information Database.
Legal category: AVM_GSL | Product Information Database