Skip to content
Skip to navigation menu
Hill's Ideal Balance Adult No Grain Dog Food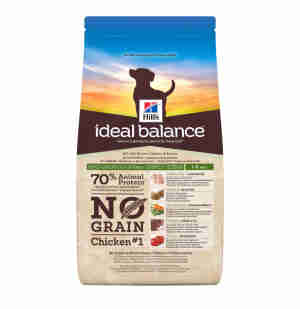 Rollover image to zoom
Product details
Support your active, playful dog with this Hill's Ideal Balance Adult No Grain Dog Food, an all-natural mix including delicious wholesome chicken.
How it works
Hill's Ideal Balance Adult No Grain Dog Food is an ideal source of nutrition for active dogs, containing chicken, apple, cranberry and peas amongst other health-boosting ingredients. Protein-filled chicken and potassium-packed peas support your dog's skin, joints and muscles, so they're ready to run, jump and play to their heart's content.
Since some dogs are allergic to grains, this mix replaces traditional grain-sourced carbohydrates with high-quality potato and brown rice, making it gentler on sensitive stomachs without compromising on energy. Vitamin C-filled apples boost your pet's immune system, while the natural antioxidant properties of cranberries help to combat the degenerative effects of free radicals. The mix is also free from artificial colours, flavours and preservatives.
Key benefits
Complete, nutritionally balanced dry dog food
Free from grains that upset some dogs' stomachs
Contains protein-packed chicken and carb-rich potato and brown rice
Delicious and completely natural ingredients
Apples and cranberries support a strong immune system
No added artificial colours, flavours or preservatives
When to use it
Hill's Ideal Balance Adult No Grain Dog Food contains all the nutrition most adult dogs need to live happy lives. Unlike most dry foods, the carbohydrate content in this mix is grain-free and sourced from potato and brown rice, making it more suitable for dogs with common grain allergies. As with all food changes, just make sure to gradually replace your dog's old food with this new mix over the course of a few days.
Hill's food is delicious, but if your dog tends to eat too quickly, it may be a good idea to consider a rolling food dispenser or a slow feeder to calm their chewing and prevent your pet from swallowing air with their food.
Ingredients
Fresh chicken (14%), potato (14%), pea protein concentrate, yellow pea flour, potato starch, animal fat, chicken meal, dried beet pulp, digest, flaxseed, minerals, pea powder, apple powder, cranberry powder, carrot powder, broccoli powder, vitamins, trace elements and taurine. With a natural antioxidant (mixed tocopherols).
Customer reviews
We're sorry but there are no reviews of this product in English.