Skip to content
Skip to navigation menu
Hill's Prescription Diet Feline w/d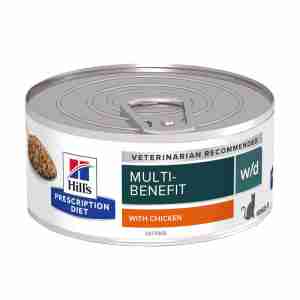 Hills Prescription Diet Feline W/D for the Nutritional Management of Obese Prone and Slightly Overweight Cats.


Even minor weight problems can have an impact on your cats health and energy levels. Its a problem that frequently begins with excessive calorie and fat intake as well as a lack of adequate exercise.

Hills Prescription Diet Feline W/D was formulated specifically to help manage cats who are slightly overweight as well as those prone to gaining weight. Weight problems can lead to more serious conditions, including diabetes, heart disease, and several others.

Indications:
Obesity prevention.
Fibre-responsive diseases (i.e. diabetes mellitus, hyperlipidaemia, colitis or constipation).
Hyperlipidaemia.
Struvite-associated Feline Lower Urinary Tract Disease in obesity-prone cats.

Key Benefits:
Energy, Fat - Reduced - Helps avoid weight gain and help lower lipid levels.
Fibre - High - Obesity prevention: provides increased dietary bulk which aids satiety and avoids hunger. Diabetes mellitus: helps minimise blood glucose fluctuation, which may reduce insulin dosage. Colitis: modifies bowel transit time. Constipation: absorbs water and increases intestinal motility.
L-Carnitine - Supplemented - Increases conversion of fat to energy. Helps maintain lean body mass.
Magnesium Phosphorus - Controlled - Limits urinary concentration of struvite constituents, magnesium and phosphate.
Target urinary pH Acid: pH 6.2-6.4 - Discourages the formation and aggregation of struvite crystals.
Superior antioxidant formula - Added - Reduces harmful free radicals, to help avoid chronic conditions.

Ingredients:
Chicken and turkey meal, ground maize, maize gluten meal, ground rice, cellulose, digest, animal fat, potassium chloride, vegetable oil, calcium sulphate, L-carnitine supplement, salt, taurine, DL-methionine, vitamins and trace elements. Contains EU approved antioxidant.

Warning:
Not recommended for Kittens, Pregnant or lactating queens, Cats concurrently receiving urinary acidifiers or Cats that are debilitated, underweight or dehydrated.

By purchasing Hill's Prescription Diet Feline W/D, you confirm your pet has been examined by a vet who has recommended the use of this food on the basis of examination and diagnosis. You understand it is recommended while your pet is being fed Hill's Prescription Diet Feline W/D, you seek veterinary advice at least every 6 months regarding the usage of this food and the on-going care of your pet. Should your pet's condition deteriorate in any way while using Hill's Prescription Diet Feline W/D seek immediate veterinary advice.


Customer reviews
Product reviews are filtered by language.
The following reviews are available in English.
Efficient service and cheaper than the vets

Website is easy to navigate and the re-order option is also good. Our cat has been on W/D for years now and it's a lot cheaper to buy through MedicAnimal than to buy it through the vets.

Good food and good service

Hills W/D is an excellent product which was prescribed by my vet for my cat. She loves it and appears to be doing very well on it. Medicanimal is an easy site to navigate and I get top quality service here.

Best product out there...and he even likes it!

Our 21 year old cat Tom was put on the w/d formula from Hills a few years back and I was worried that he was going to hate it but it seems to have gone down a storm and he's still eating it years later! The price and the fact that it is delivered has meant that I'm in no way worried about the fact that I need to use this food for him and so far I've not found another website or shop that can match this website.

My teenage ginger boy is diabetic and this is his perfect food. He's turned down all others and always beats me to the kitchen at mealtimes cos he's eager for his Hills. This food also ensures that he's well fed whilst helping to keep his diabetes at bay. Couldn't ask for more. Have used other Hills prescription diets with other cats over the years and I'd recommend the brand to anyone as it's proved itself to be the best each and every time.

This was prescribed to one of our cats following a bout of constipation but had has the added bonus of helping our other cat to lose weight. They had only really been fed on dry food before but both took to this really quickly. We have tried other wet foods, but keep coming back to this as the favourite. A great quality product.