Skip to content
Skip to navigation menu
James Wellbeloved Adult Dry Dog Food Turkey & Rice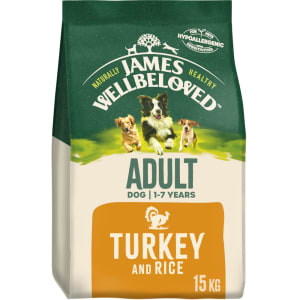 Product details
James Wellbeloved complete dog foods specially selected wholesome ingredients make them naturally healthy, completely satisfying and very tasty for your dog.

With no beef or pork, no wheat or wheat gluten, no dairy products or egg, James Wellbeloved complete dog foods are hypoallergenic and free from many of the ingredients which are renowned for causing food intolerances.

James Wellbeloved contains no artificial colours, flavours or prevatives and has been developed to be easy on your dogs digestive tract and soothe itchy coats. With your dogs wellbeing in mind, our recipes contain a single source of meat protein - either turkey, duck, lamb or ocean white fish of the finest quality. The carbohydrate content comes from rice, oats and barley, which are not only a valuable energy source, but delicate on your dogs digestion too.

James Wellbeloved Adult Kibble contains all the wholesome, natural ingredients that an adult dog needs to keep him fit and healthy, and is ideal for dogs with loose bowels and skin irritation. It is hypoallergenic, uses activity balanced proteins to calm hyperactive behaviour and contains seaweed, alfalfa and yucca in addition to natural sources of Vitamins E and C for their anti oxidant qualities.

James Wellbeloved Adult Kibble is great for dogs when they have finished the growing stage of their life and will take them through to their senior years.

Available in Duck & Rice, Fish & Rice, Lamb & Rice and Turkey & Rice.


Customer reviews
Product reviews are filtered by language.
The following reviews are available in English.
Good for sensitive stomachs

Our dog has a sensitive stomach but this food suits him well -he enjoys it and it never causes any digestive problems.

james wellbeloved pouches & kibble

My dogs all love the kibble and a little of the pouch gives them a tasty topper!

Dogs Love It!

Have used this for our three Westies for years, also with the Wellbeloved topping pouches. It's rare on this food for dogs to have an upset stomach and they all seem to be loving the food.

Turkey and Rice Adult dog food

I have used this for 6 years and have just opened a fresh 15kg bag. It looks quite different to normal. Not the normal round shape feed, but smaller and different shapes, hearts etc. Looks more like puppy food to me. If it has been changed I would like to know. Why is there not a mention on the bag. Other than this everything excellent. Hope someone from JW comes back to me. 7 Sep 2018.

James Wellbeloved Adult Turkey and Rice 7.5kg

Constantly satisfied with Pet Supermarkets cost of the Dog Food and the process of delivery; often delivered before the dates quoted. Dog enjoys the food, which is most important !!