Skip to content
Skip to navigation menu
James Wellbeloved Dog Senior Lamb and Vegetables Grain Free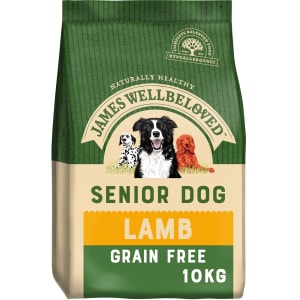 Product details
James Wellbeloved dog senior lamb and vegetables is a complete hypoallergenic recipe for senior dogs with a food intolerance or allergies.
How it works
Food allergies often mean that your dog's not able to digest their meals completely, which is why this diet's ingredients have been specially chosen to avoid the common causes of intolerances. It contains all-natural ingredients to help reduce the chance of an irritated stomach. There's only one single source of protein, lamb, which helps make it easier to digest than more complex protein mixes, as well as giving your four-legged friend plenty of energy for daily walks and play.
Added vitamins and minerals help keep your dog's immune system in good form, improving their defences against illnesses.
Key benefits:
made from all-natural ingredients
tasty flavour
easy to digest
contains only one source of protein
packed with minerals and vitamins
formulated especially for senior dogs with food allergies.
When to use it
If your dog has an allergy or an intolerance, then it's likely that they are unable to digest their food properly. This can lead to upset stomachs, which are very uncomfortable for your pet, and mean they're missing out on all the goodness in their food. Signs of a digestive problem could include getting rashes and retching or diarrhoea after mealtimes.
Feeding your dog James Wellbeloved dog senior lamb and vegetables means that they should be able to digest their food comfortably, and absorb all the nutrients and vitamins. Plus, as it's a complete food, you can use it to replace your pet's regular meals.
Make sure you read the packaging before switching your dog over to James Wellbeloved dog senior lamb and vegetables. If you have particular concerns over your pet's diet, it's always worth speaking to your vet for specialist advice.
Warnings
Size type
Bodyweight (kg)
Daily serving (g)
Active
Normal
Toy
2-5
50-105
45-90
Small
5-10
105-175
90-150
Medium
10-15
175-235
150-205
Large
15-25
235-345
205-300
25-40
345-495
300-425
40-55
495-625
425-540
55-70
625-750
540-650
70-90
750-905
650-780
The recommended daily serving is only a guide as requirements vary considerably from dog to dog.
Feed in one meal per day or ideally divide into two meals, using 1/3 in morning and 2/3 in evening.
Feed dry with separate bowl of water or moisten with warm water to bring out the flavour. Store in cool dry place; keep closed between uses.
Supply plenty of clean, fresh drinking water at all times. We recommend that feeding be supervised.