Skip to content
Skip to navigation menu
Kokoba Cat Litter Scoop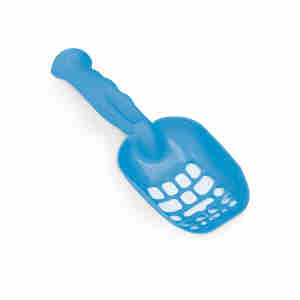 Rollover image to zoom
Product details
The Kokoba scoop is made from durable plastic and is designed especially for sifting through clumping and ultra-fine cat litter.
How it works
The thin mesh makes picking up ultra-fine and clumping cat litter (without wasting the unused stuff) much easier. The plastic is smooth and durable, so it's easy to clean and should last you a long time. The scoop catches the used litter, and small slits on the side let anything clean slip through and back into the tray. This means you'll only throw out less good litter and makes it easy to keep your four-legged-pal's tray free of dirt and nasty smells.
Key benefits
high quality plastic construction
made especially for clumping and ultra-fine litter
has small slits to save unused litter and let it go back into the tray
cleaning your cat's tray daily can stop it from smelling.
When to use it
Run this scoop through your buddy's litter tray once a day to pick up urine-soaked litter and droppings. Replace anything you take out, and add a touch of baking powder to keep things smelling fresh. Making sure your cat's 'toilet' is clean will reduce the chances of little accidents on the floor, as they'll feel happier using their tray. You can keep the scoop clean and hygienic by giving it a long soak in hot soapy water every week, or more often if it needs it.
Cleaning your litter tray often should keep it smelling fresh, but if it always smells unpleasant, you can try using activated charcoal filters. These can neutralise and absorb nasty whiffs. If the smell is really bad, it could be that your cat has tummy problems. Look out for diarrhoea when you clean out the tray. It's best to speak to a vet if you're worried as this can sometimes be a sign of certain medical issues, from food intolerance to worms.
Customer reviews
We're sorry but there are no reviews of this product in English.