Skip to content
Skip to navigation menu
Kokoba Donut Bed Barcelona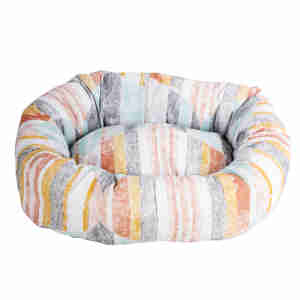 Rollover image to zoom
Product details

This donut-shaped firm-filled bed is just the right shape and size for medium and small breed dogs and cats to sleep on.
What it's for
This cosy, donut-shaped bed comes in two sizes, small and medium/large. The small size measure 56x44 centimetres and is perfect for little pups like pugs and terriers or cats. If your furry friend's on the larger size, try the medium donut bed. It's roomier at 90x69 centimetres (so they'll still have bags of wriggle space!).
The raised edges of this bed help your pet feel safe and snug when they're left downstairs to sleep at nighttime. If your four-legged pal is older or a little nervous, try keeping their bed in a quiet corner so they can get some peace and quiet away from hectic family life.
Key benefits
perfect for medium and smaller dogs and cats
pop in the washing machine at 30 degrees
compact donut shape soft and spongy polyester filling.
Please note that the bed and cushion will need plumping into shape upon unpacking.
How it works
The donut bed has a super-spongy middle section that your pup or kitty will love to snuggle into. Raised edges give this bed a safe and secure feeling that helps pets who sometimes get a bit nervous to relax.
When the cushion gets a bit less fresh, simply pop it in the washing machine at 30 degrees. Keep it clean, fur-free and smelling nice by just quickly wiping it down with a damp cloth between washes. A fuss-free solution for pets prone to getting muddy!
With a colourful print, this bed will fit in easily with most interiors. The compact, circle shape can be slotted into quiet corners so they can get 40 winks without being interrupted!
Customer reviews
We're sorry but there are no reviews of this product in English.