Skip to content
Skip to navigation menu
Kokoba Odour Control Shampoo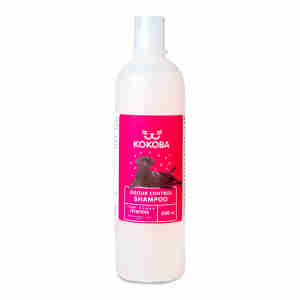 Rollover image to zoom
Product details
Kokoba odour control shampoo keeps your cat or dog smelling clean and fresh by neutralising nasty smells.
How it works
If you don't want your pet to smell like flowers, but aren't keen on their natural 'aroma' either, don't worry. This formula is unscented, and simply works by killing off the bacteria living in your pet's coat (it's their fault your little buddy can be a bit pongy). Not only does this shampoo get rid of nasty smells, but it also moisturises skin and boosts hair health. It's good for your pet and also the environment, as it's 90% biodegradable. Some of the natural ingredients in the formula include soothing aloe vera and cleansing Peg-60 hydrogenated castor oil.
Key benefits
500 millilitre bottle
formulated for dogs and cats
removes unpleasant odours by neutralising bacteria in your pet's coat
unscented and natural
environmentally friendly formula is 90% biodegradable
gentle on skin and pH balanced.
When to use it
All animals get a bit whiffy sometimes, but some breeds smell a little stronger than others. Owners of Saint Bernards, cocker spaniels and mastiffs will be well aware of this. These breeds are smellier because their glands secrete more oil. If your dog's strong scent's taking over the house, give them a wash with this shampoo. Pop them in the tub and wet them all over with warm water (check with your hand that it's not too hot: you don't want to scald their skin). Gently massage the shampoo into their coat until you've got a good lather, then rinse and repeat.
While some pets have a strong smell naturally, others can develop an odour when they have skin conditions, allergies or infections. Look out for other signs such as inflammation, itching, and a restless attitude. If you think your pet might have a health problem, it's well worth calling the vet for diagnosis and treatment.
Customer reviews
We're sorry but there are no reviews of this product in English.