Skip to content
Skip to navigation menu
"Best of its kind"
Kokoba Pet Flea Comb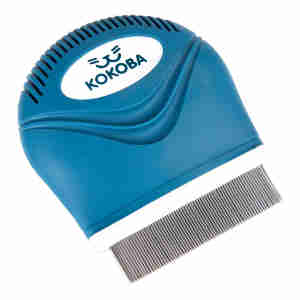 Rollover image to zoom
Product details
The Kokoba Flea Comb is a handy tool for removing fleas from your pet's fur.
How it works
Fleas can cause serious discomfort to your beloved pet. Removing stubborn fleas from their coat is easy with the Kokoba Flea Comb. Fine metal prongs pull through the coat and get to the surface of the skin so that you can remove all fleas and stop them breeding.
The prongs on this comb are suited to cats and dogs with both long and short fur. The comfortable grip handle is easy to keep hold of and is designed for prolonged use. The comb can be used again and again: simply wash it in soapy water and remove all traces of fur, fleas and eggs after use.
Key benefits
for cats and dogs with long or short fur
fine prongs glide easily through fur
metal prongs for removing fleas
can be used wet in the bath or dry as part of grooming.
When to use it
Fleas breed extremely quickly, with flea dirt and larvae causing uncomfortable irritation of your pet's skin. If you think your pet might have fleas, you should act straight away to get rid of them; if left untreated, fleas can cause complications for your pet's skin and coat.
It's easy to tell if your pet has fleas, as you'll notice them scratching a lot more. If fleas have infested your home, you may find yourself being bitten. Check your pet's neckline and underarms if you're concerned.
Use this flea comb to remove fleas and eggs once you've used a medicated treatment on your cat or dog. Removing eggs and larvae after treatment prevents further infestation.
Customer reviews
We're sorry but there are no reviews of this product in English.