Skip to content
Skip to navigation menu
Logic Firm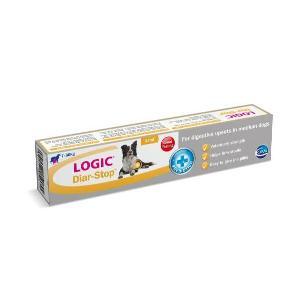 Product details
ORAL PASTE FOR CATS AND DOGS - 60ml FOR LARGE DOGS ONLY

New formula includes PreBiotics that may naturally balance the intestinal flora of animals. Nutritional Supplement that may act as an aid in coating the Intestinal Mucosa. The first montmorillonite-based nutritional supplement in a palatable paste for cats and dogs.

Diarsanyl is presented in three convenient presentations in an oral syringe of 10ml, 24ml and 60ml.

ADMINISTRATION:
Administer orally for 3 days, or as recommended by your veterinarian.
2-7 kg dogs (4-15 lbs): 1 mL (one depression of the syringe) morning and evening.
7-18 kg dogs (16-40 lbs): 2 mL (one depression of the syringe) morning and evening.
18-30 kg dogs (40-66 lbs): 4 mL (two depressions of the syringe) morning and evening.
Insert the syringe in the corner of the mouth so the syringe tip rests as far back on the tongue as possible.
Nutritional constituents: Montmorillonite, electrolytes (sodium chloride, potassium sorbate, magnesium citrate), sugars (lactose, dextrose, glycerol). Each 10 mL syringe contains 4 grams of montmorillonite.
Each 24 mL syringe contains 9.6 grams of montmorillonite
Please consult your vet for advice before using this product.
Customer reviews
Product reviews are filtered by language.
The following reviews are available in English.
excellent although arrived later than expected

Have used this Product for a number of years and it never yet has let us down always keep some handy for unpredicted events. The late arrival or the product was not due to the inefficiencies of MedicAnimal but down to the Royal Mail

excellent althougharrived later than expected

Order was late arriving as first lot lost in post ?? have used before and results are great like to keep some in as you never know when you need it. medicanimal were great when it came to the replacement no quibble and this time arrived on time ! An excellent review for an excellent on-line supplier

Logic Diar-Stop

So glad I found out about this stuff. Does excellent job of sorting out dog diarrhea. Always have a tube on standby for when my terrier finds and eats something disgusting!

Excellent stuff

This product is excellent if your dog has the runs. Always useful to have a tube in the cupboard and Pet Supermarket is the place to buy as it's a lot cheaper than the vets.

Logic Diar-stop

I have two labradors both of which are always eating things they should not I have found that Diar- stop quickly cottects the situation and cures their problems. I also found MedicAnimal to be a very good Company to buy from both for price and service.