Skip to content
Skip to navigation menu
Logic Orozyme Chews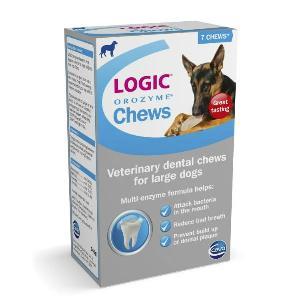 Product details
Give your dog Logic Orozyme Chews as a daily treat as part of their dental hygiene routine.

How it works
Logic Orozyme Chews contain carefully selected enzymes that control plaque buildup on teeth and gums. The innovative formula helps to keep your dog's teeth naturally healthy and clean. The enzymes in these treats are activated by the action of chewing.
These chews have been sprayed with antibacterial agents that keep teeth free of bacteria. They're made using beef and pork rawhide and coated in a palatable malt flavouring, so are guaranteed to be tasty and tempting to your pup.
Logic Orozyme Chews come in three different sizes: small, medium and large ' to match the size of your dog.

Key benefits
enzymes control plaque
made with beef and pork rawhide for a tempting taste
chewing action helps to clean teeth
sprayed with antibacterial agents to kill bacteria.
When to use it

These chews benefit your dog's teeth in two major ways: the chewing action simulates tooth cleaning, while the added enzymes help to break down plaque and bacteria. Treat your dog to a tasty chew daily between meals.

Cleaning your pup's teeth is very important to their oral health. Plaque and tartar buildup can lead to gum diseases like gingivitis, abscesses and in more extreme cases can result in loss of teeth.

It's easy to spot poor dental health in dogs. Look out for loss of appetite, swollen gums and redness ' these are all signs of abscesses. If you notice any of these symptoms, take them to see a vet for advice on how to effectively treat dental infections.
Customer reviews
Product reviews are filtered by language.
The following reviews are available in English.
Good product

We are percevering with these my young Cavalier not too keen on them but we will keep going as cavvies have problems later in life so offering the chews daily

Logic Dental Chews

My dog loves them and they keep his teeth clean

dog chews

the same product from a vets cost nearly double the price & the service was very qiick

Great chews

My dog loves these chews, helps to prevent build up of tarter which is an ongoing problem for my border terrier. Great seller , competitive prices and very fast delivery.

Aids teeth cleaning

Use these as a supplement for cleaning teeth, are less calorific than leading brand of dental sticks. Dog loves them.