Skip to content
Skip to navigation menu
Naturediet Sensitive Salmon & Prawn, Vegetables & Rice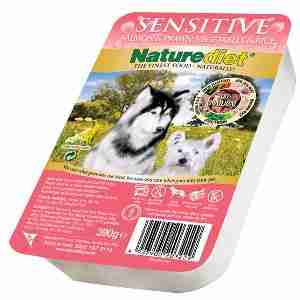 Product details
Naturediet sensitive food with salmon, prawns, vegetables and rice is a wet food that limit allergies and intolerance caused by food.
How it works
This wet food is designed to be low allergen, making it perfect for pets with allergies. Made using fish, which is easier for your dog to digest than meat, it's ideal for animals with meat protein allergies. Rich in salmon, this mix is a good source of omega-3 fatty acids. These good fats help to repair your pet's coat and skin, which can become dry and sore after an allergic reaction. Free from wheat and gluten as well as artificial flavours and additives, it helps to cut out the most common culprits of allergy from your dog's diet. Vegetables give your pet a big boost of vitamins to take care of them inside and out too.
Key benefits
contains no meat protein
natural source of omega-3 fatty acids to support coat and skin health
formula is free from wheat gluten
made from quality salmon, prawns and carrots
available as 18 twin packs of 390 grams or 18 twin packs of 280 grams
When to use it
There are some foods that are more likely to cause allergic reactions than others. Meats such as pork, beef and chicken can be hard for your pet to digest, as well as wheat, soy and corn. If you think your pet might be suffering from an allergy, look out for symptoms such as itching, vomiting and diarrhea. Speak to your vet as soon as you notice the signs. They'll be able to give your pet a full diagnosis and tell you how to make them comfortable.
Customer reviews
We're sorry but there are no reviews of this product in English.