Skip to content
Skip to navigation menu
Nullodor Cat Litter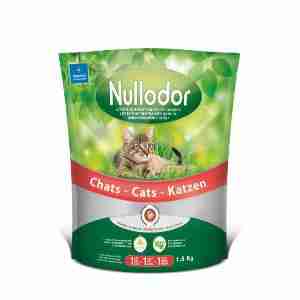 Product details
Nullodor is designed for cats. This litter is made from silica and absorbs odours and nasty smells before they can develop and become unpleasant. Works for up to a month.
How it works
Nullodor is a 100% natural product. It is compostable and neutralises bad smells in your cat's litter box. Nullodor is made from micro-porous granules with micro-capillaries. Each crystal has an absorption rate of 150%, absorbing liquids in a fraction of a second, then the moisture evaporates slowly to leave dry litter that can be re-used for a long time. Whilst the liquids evaporate, the odours are trapped in the centre of the silica granules, totally blocking ammonia emissions, so everything remains clean and fresh.
Key benefits:
No more unpleasant odours from the cat litter tray

Economical: 1 cat = 1 bag = 1 month

Does not take up much storage space:only 1.5 kg of litter per pack

Continuous absorption and odour retention

Antistatic – does not stick to paws

Eco-friendly: 100% natural product

Non-toxic: safe, even if your cat accidently eats it
When to use it
Some cats need to have access to a toilet inside and one of the main problems of this is the smell. Nullodor crystals are designed to eliminate this problem. The litter should last for a month, however it is advised that you clean the tray out as often as you feel necessary.
After a while the cat litter will begin to turn yellow. This does not reduceits effectiveness, however it is important that excrement is removed on a dailybasis and the litter should be moved around every day to avoid saturation of the same area.
Customer reviews
Product reviews are filtered by language.
The following reviews are available in English.
Nullodor

This cat litter is amazing and you can also get one the shows pee as a colour so you can see if your cat has a health problem: is very soft on cats paws and does make much mess! And theres no horrible smell at all highly recommended and this is the best price you can get it for as it's double the price in pet shops

Great cat litter

This is an excellent product. One cat loved it. One cat used it under sufferense and one would not use it at all. It really does mask all the smells so it is a great pity my three cats will not all use it the same.

Great Stuff

Tried this after reading other reviews. Have to say it's very good and does what it says. Shame it doesn't stay white though.

nullodor cat litter

the best cat litter EVER!!!! no tracking, suitable for all cats and best of all...lasts up to 1 month without having to change the litter...so more money in your pocket!!

Brilliant stuff!

Have 5 cats, only 3 regularly use the litter trays, the other 2 only when the weather bad! Have to change about every 3 weeks. No smell, hardly any tracking, easy to scoop poop out. Highly recommended! Works out cheaper than others that need changing daily or every other day.