Skip to content
Skip to navigation menu
You have setup the following Repeat Order: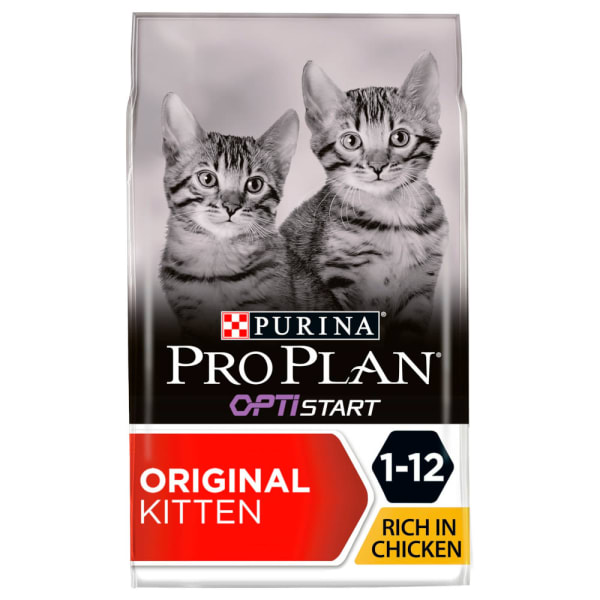 Purina Pro Plan Opti Start Original Kitten/Junior 1-12 Dry Cat Food - Chicken
Purina Pro Plan Opti Start Original Kitten/Junior 1-12 Dry Cat Food - Chicken
Purina Pro Plan Opti Start Original Kitten/Junior 1-12 Dry Cat Food - Chicken
Back in stock notification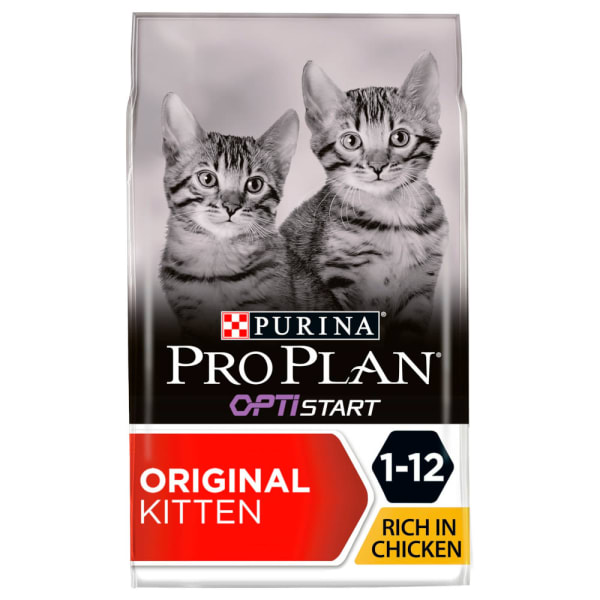 Purina Pro Plan Opti Start Original Kitten/Junior 1-12 Dry Cat Food - Chicken
Purina Pro Plan Opti Start Original Kitten/Junior 1-12 Dry Cat Food - Chicken
Enter your name and email address below then select which items you would like to be notified of when available.
Product details
PURINA PRO PLAN Kitten (previosuly Junior) with OPTISTART is for the healthy development of kittens from 6 weeks to 1 year. Combines all essential nutrients – including vitamin C & D, DHA and colostrum – in a high protein diet for kittens.
Key Benefits:

Proven to help support kittens' intestinal health and help reduce risk of upsets due to extracts from milk which balance the intestinal flora and supports intestinal defenses.
Helps support healthy vision and brain development with essential nutrients like DHA.
Maximises the immune system due to colostrum, enabling a stronger, faster immune response.
Supports healthy growth of bones and muscles with balanced minerals for bones and high protein levels for muscle development.
Suitable for neutered kittens. Feeding quantities required for ideal body condition will vary, depending on age, activity, and environment.
Ingredients
Ingredients:
Chicken (20%), rice (14%), dehydrated pork protein, maize gluten meal, dehydrated poultry protein, maize, animal fat (protected by mixed tocopherols), digest, maize starch, wheat gluten meal, dried whole egg, fish oil, yeast, potassium chloride, calcium carbonate, minerals, choline chloride, sodium chloride, colostrum.


Feeding Guide
Recommended daily amount (g/day):


Kitten Age (weeks) Quantity
6-12 20-80 g
12-26 50-100 g
26-52 100-50 g

PRO PLAN JUNIOR should be introduced at 3 to 4 weeks of age. Product should be mixed with water to make eating easier. Increase the quantity as the kitten starts to eat more and reduce the quantity of water added until the kitten is able to eat the food dry. Serve 2-3 daily meals or ad libitum.

For pregnancy feed a minimum of 90 g/day, for lactation feed a minimum of 180 g/day or ad libitum. Consult your veterinarian for more information.

Feeding quantities required to maintain ideal body condition will vary, depending on age, activity and environment. Watch your cat's weight and adjust food amounts accordingly.

Clean, fresh drinking water should always be available. For your cat's health, consult your veterinarian regularly.
Weaning

Mother's milk makes the ideal first food for every kitten and is naturally rich in everything they need, especially the building blocks for their own natural defences. Although they won't be ready for complete weaning until they are between six and eight weeks old, most kittens will start to nibble solid foods at three or four weeks. This is the best time to start offering a specially formulated kitten food - wet or dry. If you choose a dry food, it should be moistened and mashed and food should be offered in a shallow bowl.

Don't be tempted to wean too early. Switching to solid food too soon can be damaging for kittens' immature digestive systems. The process is less stressful if you wean kittens onto the food their mother is eating while nursing. Start with about a tablespoonful five times a day, and adjust if they are leaving food in the bowl or are still hungry. Throughout the process they will continue to supplement their food with mother's milk.

The key to successful weaning is time and patience. Your ambition should be to gradually remove the mother from her kittens around feeding time, in support of her natural instinct. This gradual weaning transition should see the mother reducing, then stopping, her milk production. By 10-12 weeks the transition to solid food should be complete. Throughout this period, monitor the kittens' food intake and weight, and contact your vet if you have any concerns or the kittens fail to gain weight.
Customer reviews
Product reviews are filtered by language.
The following reviews are available in English.
This product is excellent for my siamese cat's delicate stomach.

I gradually introduced Pro Plan Junior Optistart to my Siamese kitten, I had been feeding her freshly cooked chicken breast due to her having a sensitive tummy. Pro Plan Junior Optistart suits her very well, even though she is now nearly two years old, I always mix these biscuits with her other food.

Another great pet food from Pro plan!! I am a cat fosterer and currently have 4 11 wk old kittens who I have had from 1 week old. Once Mum started to wean them I put them on optistart and they love it. They have thrived and are growing into strong healthy kittens. It`s great because I can leave it out for them so they can eat when they need to and I know that it`s doing them good. Great value..would highly recommend this and all pro plan pet foods!!