Skip to content
Skip to navigation menu
Remend Corneal Repair Gel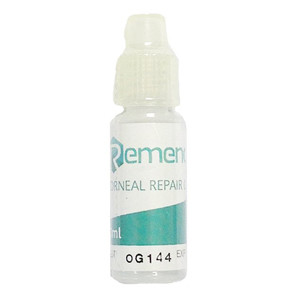 Product details
Remend Corneal Repair Gel can be used when a lubricant with a high concentration of hyaluronic acid (HA) is advised for superficial corneal ulcers on dogs.
Key Benefits
• Containing 0.75% Hyasent-S (modified, cross-linked HA)
• Offers convenient daily administration options (two to three times a day) for some dogs.
• Lubricates the corneal surface and helps maintain a moist environment
• Does not contain antibiotics or steroids and is preservative-free
Directions for Use
Use gloves to assure sterility and cleanliness.
Place 1 to 2 drops directly onto injured cornea. The natural movement of the eyelid will distribute the gel over the eye surface.
RemendCorneal Repair Gel should be applied 2 times each day until corneal repair is complete.
To avoid contamination, do not touch the tip of the container to any surface.
Replace cap securely after using.
Storage Information
Product should be stored at room temperature, away from any heat source, or may be stored in the refrigerator. If refrigerated, the product should be allowed to warm to room temperature prior to use. DO NOT FREEZE.
Please consult your vet for advice prior to using this product.
Read and follow package instructions before use.
Ingredients
Ingredients: Water, Hyasent-S, Sodium Chloride, Disodium Phosphate, Potassium Chloride, Potassium Phosphate
Customer reviews
Product reviews are filtered by language.
The following reviews are available in English.
Using this corneal she gel for our 17 year old border terrier.

This is recommended from our vet.

Remend corneal eye gel

Two of my Chihuahuas can get corneal eye damage and when they do i use this as repairs the corneal blister on eye. Very good outcome with this product .

Excellent

Was recommended by vet to get this for our little staffie who had an ulcer in her eye. Saw the difference once we started using it. Absolutely brilliant stuff

It Works

My 16 year old Golden Retriever developed a very deep ulcer on his right eye. The vet said it was "a hair's breadth away from rupturing" which would have been extremely painful and would have necessitated the removal of the eye. Considering his age, a general anaesthetic would have been very risky. Applied this gel three times a day, and the ulcer is now healing very nicely. We are, as you can imagine, very relieved. By the way, no problem administering - seemed to make him very comfortable and no discomfort on application. Excellent product.