Skip to content
Skip to navigation menu
Royal Canin Canine Pediatric Starter Large Dog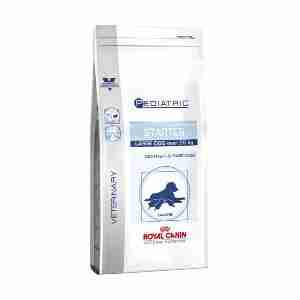 Product details
Royal Canin Canine Pediatric Starter Large Dog is a complete feed for the bitch at the end of gestation and during lactation (over 25 kg) weaning puppies up to 2 months old.
Key Benefits:
Birth programme, optimal nutritional and energy profile for weaning puppies and nursing/gestating female dogs.
Digestive security, nutrients which support a balanced digestive system.
Natural defences support, a synergistic complex of antioxidants to help support natural defences.
Easy rehydration, kibbles which are easy to soak to facilitate the transition from milk to dry food.
Ingredients
COMPOSITION: rice, dehydrated poultry protein, animal fats, wheat gluten*,hydrolysed animal proteins, maize, beet pulp, minerals, soya oil, vegetablefibres, fish oil, fatty acid salt, fructo-oligo-saccharides, psyllium husks andseeds, hydrolysed yeast (source of manno-oligo-saccharides and beta-glucans),marigold extract (source of lutein). ADDITIVES (per kg): Nutritional additives:Vitamin A: 13900 IU, Vitamin D3: 1200 IU, E1 (Iron): 48 mg, E2 (Iodine): 3.7mg, E4 (Copper): 8 mg, E5 (Manganese): 63 mg, E6 (Zinc): 206 mg, E8 (Selenium):0.08 mg, Beta-carotene: 40 mg - Preservatives - Antioxidants. ANALYTICALCONSTITUENTS: Protein: 30% - Fat content: 22% - Crude ash: 6.9% - Crude fibres:1.8%. *L.I.P.: protein selected for its very high assimilation.
| | |
| --- | --- |
| Analysis table | Amount |
| Beta-carotene (mg/kg) | 40.0 |
| Vitamin A (UI/kg) | 21000.0 |
| Moisture (%) | 8.0 |
| L-carnitine (mg/kg) | 50.0 |
| Fibre (%) | 1.8 |
| Protein (%) | 30.0 |
| Biotin (mg/kg) | 1.32 |
| Nitrogen-free extract (NFE) (%) | 31.3 |
| Dietary fibre (%) | 6.4 |
| Metabolisable energy (calculated according to NRC85) (kcal/kg) | 4015.5 |
| Calcium (%) | 1.2 |
| Omega 3 (%) | 0.73 |
| DL-methionine (%) | 0.64 |
| Arachidonic acid (%) | 0.08 |
| Vitamin C (mg/kg) | 300.0 |
| Omega 6 (%) | 3.7 |
| Linoleic acid (%) | 3.51 |
| EPA/DHA (%) | 0.3 |
| Starch (%) | 26.7 |
| Metabolisable energy (measured) (kcal/kg) | 4228.0 |
| Phosphorus (%) | 0.95 |
| Lutein (mg/kg) | 5.0 |
| Fat (%) | 22.0 |
| Ash (%) | 6.9 |
| Vitamin E (mg/kg) | 600.0 |
| Taurine (mg/kg) | 1900.0 |
| Methionine Cystine (%) | 1.09 |
| [metabolisable_energy_calculated_according_to_NRC_2006] (kcal/kg) | 4227.54 |
| | |
| --- | --- |
| Other nutrients | Amount |
| L-lysine (%) | 1.57 |
| Arginine (%) | 1.64 |
| | |
| --- | --- |
| Vitamins | Amount |
| Vitamin B5 Pantothenic acid (mg/kg) | 30.9 |
| Folic acid (mg/kg) | 1.0 |
| Vitamin B6 Pyridoxine (mg/kg) | 10.0 |
| Vitamin B1 Thiamin (mg/kg) | 5.1 |
| Vitamin B12 Cyanocobalamin (mg/kg) | 0.09 |
| Vitamin B2 Riboflavin (mg/kg) | 4.7 |
| Vitamin D3 (UI/kg) | 1200.0 |
| Choline (mg/kg) | 1700.0 |
| Vitamin B3 Niacin (mg/kg) | 18.3 |
| | |
| --- | --- |
| Minerals | Amount |
| Potassium (%) | 0.7 |
| Magnesium (%) | 0.07 |
| Manganese (mg/kg) | 76.0 |
| Zinc (mg/kg) | 247.0 |
| Selenium (mg/kg) | 0.16 |
| Sodium (%) | 0.4 |
| Chloride (%) | 0.58 |
| Iodine (mg/kg) | 3.7 |
| Iron (mg/kg) | 198.0 |
| Copper (mg/kg) | 15.0 |
Feeding Guide
Recommended daily quantities (g/day):
Water should be available at all times
Weaning Puppy
Adult Weight
26 kg
30 kg
35 kg
40 kg
44 kg
0-2 weeks
babydog
babydog
babydog
babydog
babydog
milk
milk
milk
milk
milk
2-3 weeks
30 g
3/8 cup
30 g
3/8 cup
30 g
3/8 cup
30 g
3/8 cup
30 g
3/8 cup
3-4 weeks
90 g
1 cup
90 g
1 cup
110 g
1 2/8 cup
110 g
1 2/8 cup
110 g
1 2/8 cup
4-5 weeks
155 g
1 6/8 cup
155 g
1 6/8 cup
170 g
1 7/8 cup
170 g
1 7/8 cup
170 g
1 7/8 cup
5-6 weeks
170 g
1 7/8 cup
170 g
1 7/8 cup
190 g
2 1/8 cup
190 g
2 1/8 cup
190 g
2 1/8 cup
6-7 weeks
225 g
2 4/8 cup
225 g
2 4/8 cup
245 g
2 6/8 cup
245 g
2 6/8 cup
245 g
2 6/8 cup
7-8 weeks
280 g
3 1/8 cup
280 g
3 1/8 cup
320 g
3 5/8 cup
320 g
3 5/8 cup
320 g
3 5/8 cup
Gestation Bitch
Adult Weight
26 kg
30 kg
35 kg
40 kg
44 kg
6 weeks of gestation
330 g
3 6/8 cup
367 g
4 1/8 cup
412 g
4 5/8 cup
455 g
5 1/8 cups
489 g
5 4/8 cup
7 weeks of gestation
359 g
4 cup
400 g
4 4/8 cup
449 g
5 cup
497 g
5 5/8 cup
533 g
6 cup
8 weeks of gestation
389 g
4 3/8 cup
434 g
4 7/8 cup
487 g
5 4/8 cup
538 g
6 cup
578 g
6 4/8 cup
9 weeks of gestation
419 g
4 6/8 cup
467 g
5 2/8 cup
524 g
5 7/8 cups
579 g
6 4/8 cup
622 g
7 cup
LACTATING
ad libitum
ad libitum
ad libitum
ad libitum
ad libitum