Skip to content
Skip to navigation menu
Sanicat Clumping Cat Litter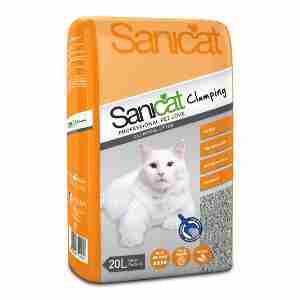 Sanicat clumping cat litter is made from highly absorbent clay granules, perfect for keeping your home smelling fresh and clean.

What it's for
Sanicat clumping cat litter should be used on its own for best results, so try not to mix it in with other kitty litter. Make sure the tray is completely dry before filling it. It should clump together when there's any waste, which you can then easily scoop out and bin. Put the tray back in your cat's favourite bathroom spot to encourage them to use their new litter.

Cats prefer a clean bathroom, just like humans, so check the tray every day for any waste and take it out. Washing the tray regularly with hot soapy water and refreshing the litter lowers the chances of little accidents.

Key benefits
really absorbent to keep smells at bay
has a light fragrance to control odour
clumps together easily
clumps are easy to scoop out
made from 100% bentonite
How it works
Soft on paws, these gentle granules are unlikely to get caught between your cat's feet and dragged through your home. It has a light baby powder and plant extract fragrance to keep your home smelling fresh and clean. It's gold in colour and made from 100% bentonite, a special clay that forms lumps as it soaks up liquid. When your cat urinates, the bentonite clumps together so you can easily scoop it out and reduce the chances of your home becoming whiffy.
The natural clay can help to control and stop bad smells in their tracks, fantastic if you have a small home or keep your cat's litter tray in an enclosed space.
Customer reviews
Product reviews are filtered by language.
The following reviews are available in English.
A good odour free litter

A white cat litter that appears very economical.

Wrapping

The product is perfect good company to dealwith only problem i have is the person that packs it is no good it always arrives damaged because they only put one band on instead of two

Clumping litter

Always use clumping litter and dust is a lot less than other makes. Iams chicken has always been a favourite and Biggles is now 11. The plug in for stress although expensive does work having got an indoor cat.

Excellent value

I recently purchased two of these bags of litter and are very good value. So much so, I`ve just bought two more for three cats.

Sanicat Clumping Litter

Good quality absorbent clumping litter. Easy to scoop up into nappy sacks and dispose of. I keep the scoop in a fresh sack for next time. Pet Supermarket prices are consistently lower than other providers, especially when you gain VIP status and get points and discounts. Prompt delivery, helpful people.