Skip to content
Skip to navigation menu
Simple Solution Stain & Odour Remover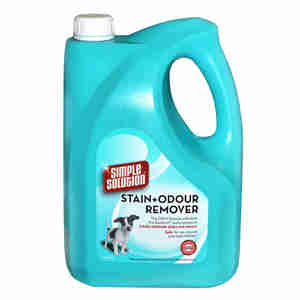 Product details
Simple Solution stain and odour remover is specially formulated to break down cat mess and neutralise smells, as well as discouraging repeat behaviour.
How it works
This spray contains a special mix of enzymes and probacteria, which work together to break down solid organic matter such as cat poo and vomit. It also neutralises odours with a pleasant grassy smell of its own. As well as clearing away messes, the spray also discourages your cat from returning to the area to do it again, which is essential if your pet's been marking their territory.
It can be used on water-safe surfaces such as concrete and decking, as well as carpets and upholstery. As it uses natural ingredients, it's safe to use around children and pets. It has an easy-to-spray trigger, so cleaning up only takes a moment.
Key benefits
contains probacteria and enzymes, which break down pet mess
reduces the chance of repeat behaviour
neutralises odours and eliminates stains left by little accidents
child- and pet-safe
can be used on all water-safe materials, including carpets and upholstery
trigger applicator is easy to use
When to use it
Use this product whenever you need to clean up cat urine, poo or vomit in your home. Your cat may leave little surprises around the house for a number of reasons: if they're becoming incontinent, are feeling poorly, want to mark their territory or if they feel their litter tray isn't clean enough. This Simple Solution stain and odour remover helps to discourage repeat accidents in the house, so can put an end to bad behaviour.
If your cat consistently avoids their litter tray, or has been suffering from diarrhoea and sickness for more than a couple of days, it's best to visit your vet. They'll be able to check for underlying issues, as well as offer further advice on treatment.
Customer reviews
Product reviews are filtered by language.
The following reviews are available in English.
Excellent

It is indeed a very good thing. Having a few dogs in the house means that accidents happen, but this stuff helps well to keep the house clean.

Best ever!!

I bought this as a last ditched attempt before paying for a professional cleaning service , it's brilliant! Old stains new stains on my cream carpet thanks to my poorly old dog have vanished leaving a fresh smell .. thanks to this product !

Brilliant.

This product is amazing and been used quite a lot since our cockerpoo puppy joined us, highly recommended.

I've previously used the cat version of this, so when I had a puppy I got some in ready as I have carpet throughtout. It certainly does the job.

Very good service and price. Brilliant product have used it for years & always have some in the house.