Skip to content
Skip to navigation menu
Specific Canine CPD-S Puppy Small Breed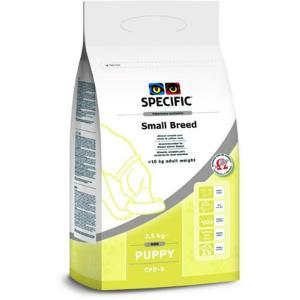 Product details
Recommendation
Growth of small breed puppies.
Pregnancy, lactation in all breeds.
Anorexia.
Recovery.
Increased levels of energy, protein, vitamins andminerals meet therequirement of growing small breed puppies, and support normal skeletondevelopment.
DHA is an omega-3 fatty acid which supports the development of the brain andvision.
EPA and DHA are both omega-3 fatty acids with abeneficial effect on the development of healthy skin and coat and healthyjoints.
Contains ß-1,3/1,6-glucans from yeast which can bind to receptors of whiteblood cells, thereby alerting the immune system and supporting the immuneresponse.
Psyllium Husk is a gel-formingsoluble fibre, which absorbs several times its weight in liquid, and is knownfor its beneficial effect on the regulation of the gastrointestinal tractactivity.
Ingredients/Nutrition
Wheat, fish meal, animal fat, maize protein,rice,hydrolysed pork protein, minerals,buttermilk powder, potato protein, sugar,eggs,Plantago psyllium husk, vitamins and trace elements, yeast (source ofß-1,3/1,6-glucans), sunflower oil, methionine.
Antioxidants: EC approved additives: BHA, BHT,propyl gallate.
It contains no artificial colours or flavourings.