Skip to content
Skip to navigation menu
Specific Canine CXD-S Adult Small Breed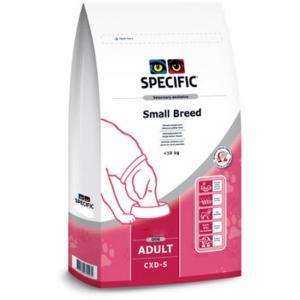 Product details
A complete, balanced diet, with a moderate level of energy that meets therequirement of small breed dogs and helps them maintain their ideal body weight
EPA and DHA are both omega-3 fatty acids with abeneficial effect on the maintenance of healthy skin and coat and healthyjoints.
High quality and highdigestible ingredients ensure a maximumuptake of nutrients from the diet, whilst reducing faecal output.
Contains ß-1,3/1,6-glucans from yeast which can bind to receptors of whiteblood cells, thereby alerting the immune system and supporting the immuneresponse
FOS is a fermentablefibre which promotes the growth of beneficial colonic bacteria for support of ahealthy gastrointestinal tract.
Recommendation:
Daily diet for healthy adult small breed dogs(< 10 kg) from 1-8 years.
Ingredients:
Wheat, fish meal, animal fat, maize protein,rice, hydrolysed pork protein, yeast (source of ß-1,3/1,6-glucans), minerals,eggs, fructo oligo saccharides, vitamins and trace elements, methionine,sunflower oil.
Antioxidants: EC approved additives: BHA, BHT,propyl gallate.
It contains no artificial colours or flavourings.
Customer reviews
We're sorry but there are no reviews of this product in English.