Skip to content
Skip to navigation menu
Specific Feline FCD & FCW Crystal Prevention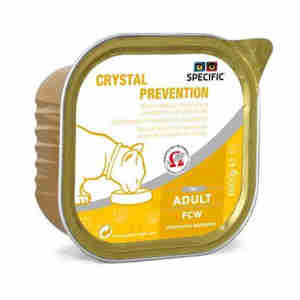 Rollover image to zoom
Product details

The Specific diets from Dechra are developed in close collaboration with veterinarians, vet nurses and experts in animal nutrition. They are divided into two main categories - Lifestage Diets for healthy cats and dogs, and Therapeutic Diets for the management of Clinical Conditions.

Specific Struvite Management is highly palatable and especially composed to help with the prevention of struvite stones and crystals in adult pets. They induce low urinary concentration of magnesium and phosphorous and a low pH, which will prevent the formation of struvite.

The precipitation of struvite (magnesium ammonium phosphate) in the lower urinary tract is promoted by high concentrations of magnesium, ammonium and phosphorus in the urine and an alkaline urinary pH. Specific Struvite Management is specially developed for the prevention of this form of urolithiasis. The reduced phosphorus and magnesium content in Specific Struvite Management leads to lowered urinary concentrations.

In addition to this, Specific Struvite Management induces a low urinary pH (6.0 to 6.3) which reduces the likelihood of struvite precipitation.

Key Benefits


Reduced phosphorus and magnesium content which reduces the content of these minerals in the urine


Induces a low urinary pH which will help dissolve the struvite
High energy density


High energy digestibility

The diet has a reduced content of magnesium and phosphorus (components of struvite crystals) for prevention of recurrence of struvite crystals and stones.

A urine pH below 6.4 dissolves existing struvite crystals and prevents precipitation of new struvite crystals. EPA and DHA are both omega-3 fatty acids with a beneficial effect on the development of healthy skin and coat.

Ingredients:
Cereals, Vegetable protein extract, Oils and fats, Fish and fish derivatives, Egg and egg derivatives, Sugar, Minerals, Milk and milk derivatives, Hydrolysed chicken protein, Powdered cellulose, Plantago psyllium husk


Customer reviews
Product reviews are filtered by language.
The following reviews are available in English.
Helped save my cats life!

My 6 year old male BSH cat had to be rushed to the vet as an emergency with a blocked urethra. I had lucky got him there before an kidney damage but he still needed catheterization, 36 hours on a drip and regular flushing of his bladder during that period. The plug the vet removed was 4mm by 200 mm which was a build up of crystals and protein. Considering his urethra is only a couple of mm wide I'm not surprised he couldn't wee. The vet undoubtedly saved his life but this product will stop him having to go through such a painful and potentially life threatening episode.

good product

Great product has helped older cat greatly

Specific Feline FCD

This cat food is excellent. My cat suffered a lot from crystals forming in his bladder and was always having to be treated for it which left him very distressed. Since he has been using this food he's never had any problems.

A good value urinary food. My cat enjoys it and he hasn`t had any problems with it.