Skip to content
Skip to navigation menu
Specific Feline FSD Struvite Disssolution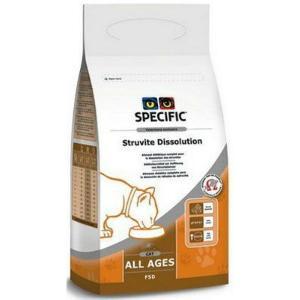 Product details
Struvite dissolution: The diet has areduced content of magnesium and phosphorus(components of struvite crystals)for dissolution of struvite stones and prevention of recurrence of struvitecrystals and stones.
Urine control: A urine pH at 6.0 –6.3 dissolves existing struvite crystals and prevents precipitation of newstruvite crystals.
High urine volume: The increased sodiumcontent promotes diuresis, which is associated with reduced urinary mineralconcentrations and increased urinary frequency.
Recommendation:
Temporary diet for the dissolution of struviteuroliths.
Not Recommended for:
Urolithiasis due to calcium oxalate, ammoniumurate or cystine.
Simultaneous administration of urinary acidifiers.
Metabolic or renal acidosis.
Heart failure, hypertension and oedema.
Kittens and pregnant or lactating queens.
Ingredients:
Maize protein, animal fat, wheat, rice, eggs,potato protein, fish meal, minerals, oats, hydrolysed chicken and turkeyprotein, powdered cellulose, methionine, vitamins and trace elements, sunfloweroil, taurine. Antioxidant: EC approved additives: BHA, BHT. It contains nosynthetic dyes and flavouring.
Customer reviews
Product reviews are filtered by language.
The following reviews are available in English.
happy

my cat had crystal's in his urine , he was not happy and he was not drinking . I was told my his vet to put him on this food they where charging about £20 per bag , so I saw this wonderful company and I buy his food from here at a great price . I have also bought a cat mate water fountain which both of my cat's love so much .