Skip to content
Skip to navigation menu
Thrive Pro Reward Treats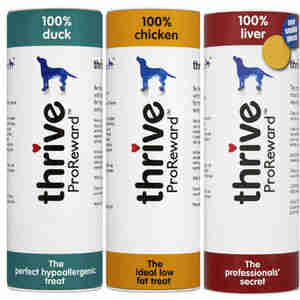 Thrive Pro Reward dog treats are 100% pure and have an intense flavour which helps your dog to focus on you. The treats come in a portable tube that is easy to carry around and convenient to use.

Key Benefits:
Single source protein
Naturally low in fat
Freeze-dried or air-dried to retain all nutrients and enhance the flavour as well as maintain natural scents.
Liver – has the most powerful flavour – feed a limited amount as high value reward for positive behaviour. Not suitable for Dalmatians.

Chicken – naturally low in fat and deliciously chewy.

Duck – ideal for dogs sensitive to certain foods.
Customer reviews
We're sorry but there are no reviews of this product in English.