Skip to content
Skip to navigation menu
Ultima Jack Russell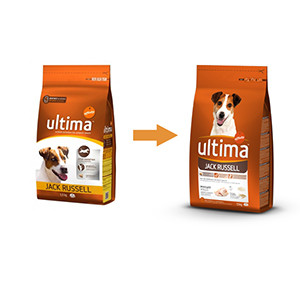 Product details
The Ultima Jack Russel dry food has been specially formulated by a team of veterinarians to meet the needs of this very active and clever breed.
This food contains a high level of essential fatty acids and nutrients, contributing to ideal physical health. The Jack Russells are known for being gourmets, so Ultima has selected meats with an irresistible flavour. A combination of antioxidants, prebiotic fibres and Omega 3 essential fatty acids will strengthen your little dog's natural defenses. Essential minerals such as calcium, phosphorus and vitamin D help maintain healthy teeth and bones. Skin and coat can benefit from Omega 3 and 6 as well as zinc. Without colours or preservatives, the Ultima recipe help maintain digestive function, thanks to its fibre from beet pulp and cereals. Green tea and crispy pyrophosphate croquette help keep your dog`s oral hygiene.
Ultima will be a great help to keep your companion healthy.
Key features:
High quality nutrients provide energy intake
With glucosamine and Omega 3 essential fatty acids for joint support
Reinforced teeth and bones thanks to the essential minerals
Enriched with Omega 3, 6 and zinc for healthy skin and coat
Oral hygiene favoured by green tea and crispy pyrophosphate croquettes
Fibres from beet pulp and cereals maintain healthy digestion
No colours or preservatives
Ingredients
Composition:
Chicken (17%), corn flour, dehydrated poultry protein, maize protein, rice (8%), maize (8%), animal fat, whole wheat (7%), hydrolysed animal protein, dehydrated beef protein, beet pulp, dehydrated pork protein, yeast, fish oil, potassium chloride, tetrasodium disphosphate, salt, glucosamine, chondroitin sulfate.
Nutritional additives:
Vitamin A 27000UI, Vitamin D3 1800UI, Vitamin 410 mg; Vitamin C (calcium / sodium ascorbyl monophosphate) 350 mg, Biotin 0.9 mg, Taurine 1200 mg; Vitamin B6 (pyridoxine hydrochloride) 11.3 mg, Iron sulphate monohydrate 235 mg (Iron: 78 mg), Potassium iodide 1.7 mg (1.3 mg iodine), Copper sulphate pentahydrate 30 mg (Copper: 8 mg), Manganese sulphate monohydrate 111 mg (Manganese: 36 mg), Zinc sulphate monohydrate 523 mg (Zinc: 184 mg), Sodium selenite 0.2 mg (Selenium: 0.1 mg). With antioxidants.
Analytical constituents:
Protein 27%, fat content 17%, crude cellulose 2.5%, mineral substances 6.2%.
Feeding Guide
Recommended quantity/day:
Dog`s weight (kg)
Activity level (grams)
Moderate
Intense
3-5
50-80
65-100
5-10
80-135
100-165
10-15
135-185
165-225
Always make sure your dog has access to plenty of water.