Skip to content
Skip to navigation menu
Specific Feline FRD Weight Reduction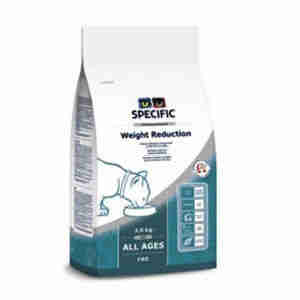 Product details

The Specific diets from Dechra are developed in close collaboration with veterinarians, vet nurses and experts in animal nutrition. They are divided into two main categories - Lifestage Diets for healthy cats and dogs, and Therapeutic Diets for the management of Clinical Conditions.

Specific Weight Reduction is a highly palatable, complete diet for adult cats during weight reduction. The diet is high in fibre and low in fat and energy. This composition enhances your pet's feeling of satiety.

Despite the reduction in energy, the composition of the diet guarantees that your pet gets all the vitamins and minerals needed to ensure that a balanced diet is provided. As this diet is designed for special pet needs, Specific Weight Reduction for cats and dogs are only available through your veterinary surgeon and must be given under veterinary supervision. Unless otherwise recommended by your veterinary surgeon the Specific Weight Reduction should be the sole source of nutrition.

Treatment of the overweight cat is based on the restriction of caloric intake to less than the daily requirement. As a guideline, it is recommended that the cat is provided with 60% of its calculated energy requirement. The reduced fat level and increased fibre content in Specific Weight Reduction will decrease the energy density, thereby increasing the feed volume and thus enhancing the feeling of satiety.

As Specific Weight Reduction is generally given below the energy requirement, the levels of minerals and fat-soluble vitamins have been slightly increased. For the successful outcome of a weight reduction program it is essential that you as the cat's owner are motivated and that the cat is exclusively fed the prescribed amount of Specific Weight Reduction for weight reduction. Attainment of the target weight will generally take a few months. In addition to the diet, exercise is an essential component in the weight reduction program.

Once the target body weight has been reached it is recommended that the low energy diet be continued for a few weeks. After that, the diet can be changed to Specific Adult. After achieving the target body weight it is important that the cat's weight continues to be monitored regularly and if necessary the amount fed adjusted.

Key Benefits:
Reduced energy density
Reduced fat content
Increased fibre content (soluble and insoluble fibre)
Slightly increased mineral and fat-soluble vitamin content

The low content of fat and high content of fibre results in a low energy density. Even during a period of weight reduction this will enable you to feed a considerable amount of food, ensuring that the cat's appetite has been sated.

The relatively high protein content ensures maintenance of muscles and ensures that the cat's appetite is sated during the weight reduction period. L-carnitine preserves the muscles and stimulates the metabolism of fat.

Omega-3 fatty acids support healthy skin and coat. Omega-3 fatty acids also help to maintain normal mobility in joints of obese cats.

The content of complex carbohydrates and high level of fibre promotes a gradual release of glucose from the diet, which makes it suitable for cats with diabetes mellitus.

Ingredients:
Meat and animal derivatives, Fish and fish derivatives, Powdered cellulose, Cereals, Egg and egg derivatives, Plantago psyllium husk, Minerals, L-carnitine


Customer reviews
Product reviews are filtered by language.
The following reviews are available in English.
Cat's Whhiskers!

My lovely Missy- 95% housecat - was officially diagnosed as being clinically obese and the Vet Nurse put her on a strict diet of this. I have to say - in 4/5 months she has reduced from 5.8kg to 5.2 kgs which is pretty good and her belly no longer drags on the floor. We are hoping to eventually to get her down to the 4kg mark - but already her coat is silkier and she is much more alert. With spring now upon us,she is outside more exploring her close to the house territory and getting a little more exercise. This Specific is working for my cat and is cheaper to buy here than at the Vets. On behalf of my moggy, I would highly recommend it.